'Worst in decades': 11 dead, 1,200 injured in Japan snowstorm (PHOTOS, VIDEO)
The heaviest snowstorm in nearly half a century in Tokyo and other areas of Japan has caused a rash of snow-linked accidents, resulting in nearly a dozen deaths and injuring more than a thousand people.
Up to 27 centimeters (10.6 inches) of snow was recorded in Tokyo by late Saturday, the heaviest fall in the capital for 45 years, according to meteorologists.
Approximately 35 centimeters (13.8 inches) of snow was dumped on the northeastern city of Sendai as a depression moved along the Pacific coast on Saturday, resulting in the heaviest snowfall in 78 years. Fukushima was also blanketed in 44 centimeters (17.3 inches of snow.)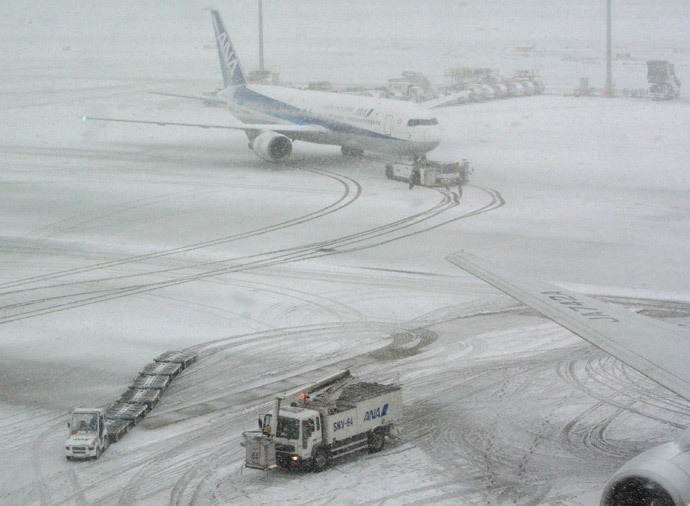 Local media now report that at least eleven people have been killed in snow-linked accidents – mostly caused by drivers crashing after losing control on the icy roads. In central Aichi prefecture, a 50-year-old man died after his car lost traction and slammed into a billboard, AFP reports, citing a local rescuer.
NHK reported at least 1,253 people have been injured nationwide, many of whom slipped and fell while shoveling the snow off their roofs.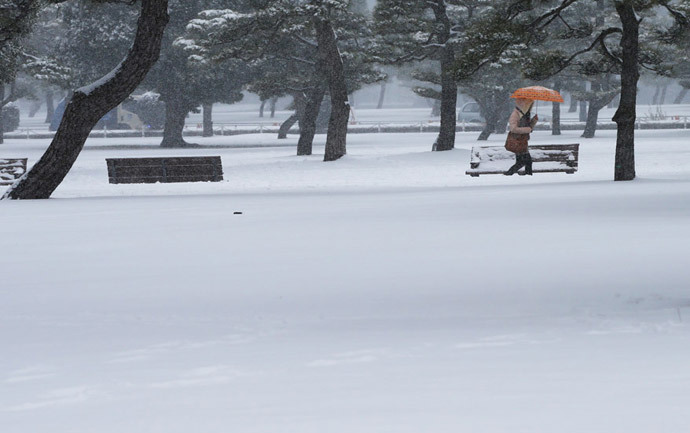 Meanwhile, the Tokyo Electric Power Company said that as of 6 am local time, more than 20,000 households in Ibaraki and Chiba prefecture were without power, the Japanese public broadcaster reports. The heavy snowfall and wind are believed to have caused the power outages.
The inclement weather has also disrupted air travelers, with over 200 domestic flights being canceled on Sunday. Around 5,000 travelers flying internationally were forced to spend the night in Tokyo Narita Airport because of the weather. Train services in the capital were also disrupted.
Weather officials say that more snow, strong winds and high waves are expected on Sunday.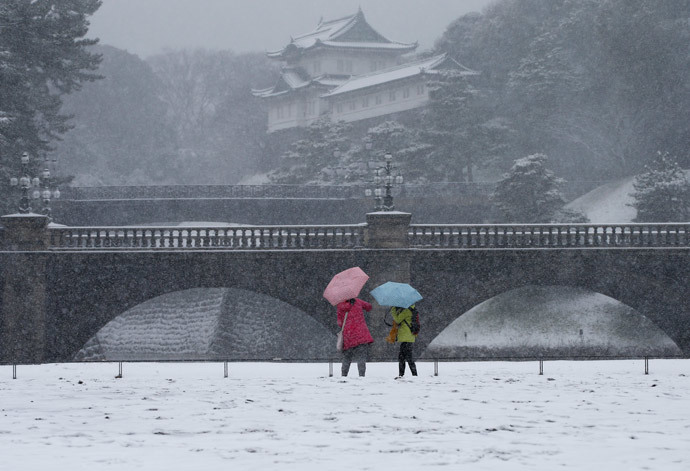 The massive snowstorms come as the Tokyo gubernatorial election commenced on Sunday. The former governor, Naoki Inose, was forced to resign in December over a political funds related scandal.
Major candidates include former Prime Minister Morihiro Hosokawa, former health minister Yoichi Masuzoe, former Air Self-Defense Force chief Toshio Tamogami, and Kenji Utsunomiya, former head of the Japan Federation of Bar Associations, Kyodo News Reports.
Octogenarian inventor, Yoshiro Nakamatsu, is also running for the governor's post for the seventh time, along with Kazuma Ieiri, a 35-year-old company executive who is crowd sourcing policy ideas from citizens.
The hotly contested race could be damped by the weather, however, with observers saying heavy snowfall could affect turnout in the city of 13 million people.
You can share this story on social media: