6.3-magnitude quake strikes off S. Japanese island of Kyushu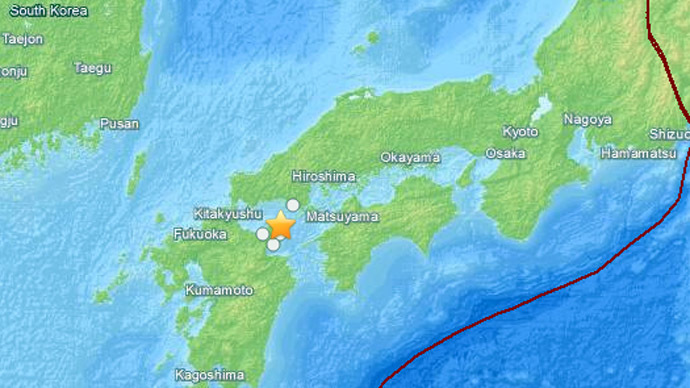 A 6.3 magnitude earthquake has struck off the south coast of Japan, 13 kilometers north of the city Kunisaki-shi, located on the southern Kyushu Island, according to the US Geological Survey.
The epicenter fell at a depth of 82.9km, striking off the coast at the intersection between Kyushu, the main island of Honshu, and Shikoku, at 2:06 a.m. on Friday (1706 GMT on Thursday).
A 6.3 earthquake is capable of causing 'serious damage', according to the USGS, while earthquakes measuring between 6.0 and 6.9 on the Richter scale can be felt up to hundreds of kilometers from the epicenter.
The quake struck 36 km south-south-west of the city of Hikari, western Honshu, which has a population of over 50,000 people.
No reports of damage or casualties have immediately followed. The USGS has released a pager 'green' alert, meaning that "there is a low likelihood of casualties and damage."
Idemitsu #Shunan plant is now venting gas with a fire, after a big earthquake in #Yamaguchi#Japan. A safety system is working.

— Keisuke KITAHARA (@kksolanet) March 13, 2014

While there have been local TV reports of fire in Shunan city, on the east coast of Honshu, they state that it is not dangerous. The Shimane Nuclear Power Plant, located some 250 kilometers northeast of Shunan also confirmed that there have been no abnormalities caused by the quake. No tsunami warning has been issued.

The earthquake struck shortly after the third anniversary of the Fukishima nuclear disaster, when a quake measuring a staggering 9 on the Richter scale struck Miyagi prefecture, causing a series of tsunamis that spawned deadly, 20-30-meter waves, sparking the world's worst nuclear disaster since Chernobyl, claiming 16,000 lives and making a further 2,600 disappear without a trace.
You can share this story on social media: