Tokyo residents rally to slam Korean article justifying atomic bombing (PHOTOS)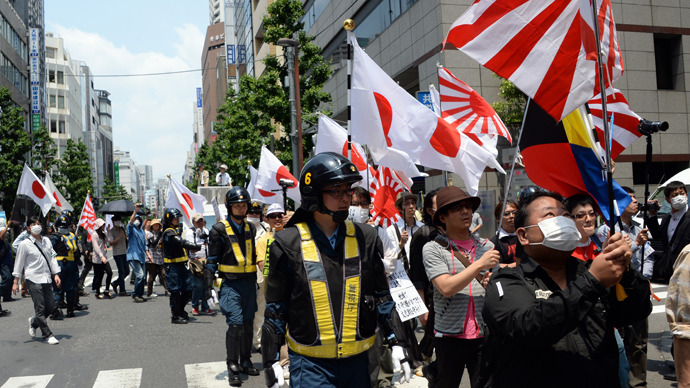 A protest was held in Tokyo after an article in a South Korean newspaper said the atomic bombings of Hiroshima and Nagasaki were "divine punishment" for war crimes Japan committed against its Asian neighbors during World War II.
Around 100 people gathered in front of the Tokyo office of South Korean newspaper Joongang Ilbo. The protestors carried Japanese national flags, chanting "Shame on you!" and "We'll never forgive you for your words, go back to your peninsula."

The controversial article by editorial writer Kim Jin was published in Joongang Ilbo on May 21. The publication was originally written in English.

In his piece, the author drew parallels between the atomic attacks on Hiroshima and Nagasaki and the devastating bombing of the German city of Dresden by the Allies in 1945, claiming that both acts "were divine punishment and human retaliation at the same time."

"The bombing of Dresden was a retaliation for the Jews massacred by Nazi Germany," the article said. "Tokyo, Hiroshima and Nagasaki were revenge for the Asians steamrolled by Japan's militaristic nationalism, especially the 'Maruta,' the human beings used in experiment by a covert biological warfare research team in China called Unit 731."

Kim Jin also stressed that the two bombings had different effects, as Germany was "reborn as a free and progressive state" afterwards, while Japan still refuses to recognize "its past misdeeds."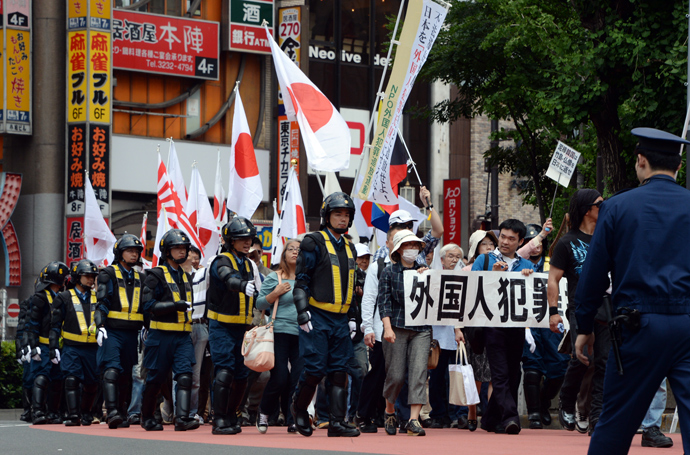 The article was written in reaction to a recent statement by Osaka Mayor and co-leader of the newly formed Japan Restoration Party, Toru Hashimoto, who justified Korean women being abused as sex slaves by Japanese soldiers during World War II.
The politician said that he believes the comfort women "were necessary at the time to maintain discipline in the army" and relax the "emotionally charged soldiers."

Those words provoked an international scandal, even drawing criticism from the US when two Democratic legislators spoke of the necessity of a "formal acknowledgement, apology and acceptance of historical responsibility" by the Japanese government.

Hashimoto did attempt to apologize, but two former comfort women, aged 88 and 86, refused to meet with him on Saturday, saying that they "want him to retire from the politics."

In 1945, the US Air Force dropped atomic bombs on Hiroshima and Nagasaki on August 6 and 9, respectively, forcing the Nazi-allied Japanese Empire to capitulate, ending World War II.

The ethical justification of the first – and so far only – use of nuclear weapons in war is still debated, as the attack led to deaths of between 150,000 and 246,000 people, according to varying estimates.