​Nuclear is key energy source, Japan's first energy policy draft since Fukushima says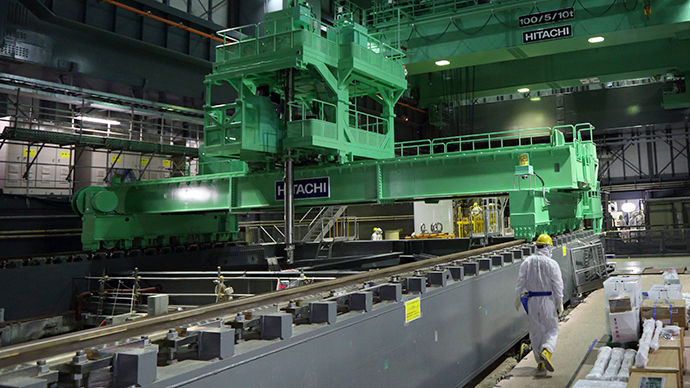 In its first draft energy policy since 2011, Japan says nuclear energy is still among its vital sources of electricity. This comes after three years of nationwide calls to shut down nuclear plants – and pledges to reduce dependency on nuclear.
The government in Tokyo has said it would restart nuclear reactors, but only those that meet new safety standards put in place after the 2011 Fukushima nuclear catastrophe, AP reported. Japan has 48 commercial nuclear reactors, but all are presently shut down until they pass new safety standards.
The draft of the Basic Energy Plan advised that a combination of nuclear energy, renewables and coal-burning fuel will be the most reliable sources of electricity to meet the nation's growing energy needs.
The document, however, failed to establish the exact mix ratio, citing uncertain factors such as the number of reactors that will be brought online and whether renewable energy can be introduced in a timely manner.
Cabinet members had planned to present the draft in January, but a proposal submitted by an expert panel was deemed to be too pro-nuclear. Many Japanese citizens in the wake of Fukushima – the world's worst nuclear meltdown since the Chernobyl accident in April, 1986 – have expressed their opposition to nuclear power, and are pressing the government to come up with safer means of producing energy.
Tuesday's draft placed more emphasis on renewable energy resources.
Toshimitsu Motegi, Japan's Economy, Trade and Industry Minister, told reporters that "in principle, the direction has not changed." He called for greater strides in the development of renewable energy over the next several years.
Japan has accumulated many tons of spent fuel, as well as a stockpile of extracted plutonium, stirring up international concerns about nuclear proliferation. Officials have said the most effective method for reducing the plutonium is to reopen the nuclear reactors to burn it.
Japan's previous energy plan, compiled in 2010, called for increasing nuclear power to about 50 percent of the nation's energy needs by 2030 from about 30 percent before the Fukushima disaster forced a rethink about the technology.
You can share this story on social media: