​Imports inflate Japan's trade deficit to record high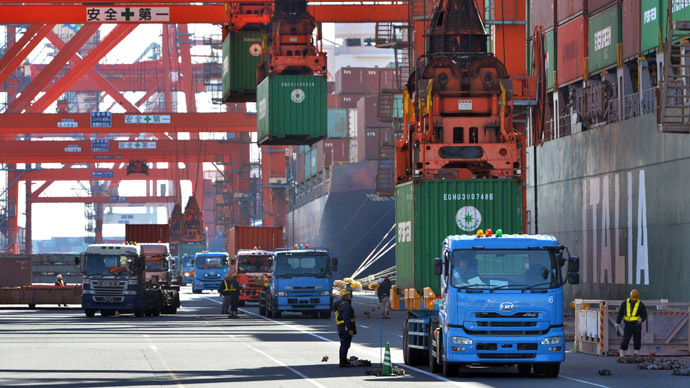 Japan posted a record $27.3 billion trade deficit in January, as the weaker yen outstripped gains from higher export revenue. The figures were another blow to the monetary strategy of Prime Minister Abe, trying to revive world's third largest economy.
The monthly trade deficit more than doubled from December's, and was 71 percent higher than in January 2013, according to the Ministry of Finance.
So-called "Abenomics", the policy put forward by Prime Minister Shinzo Abe, is based upon "three arrows" of fiscal stimulus, monetary easing and structural reforms. The program is a mix of reflation, government spending, and a growth strategy designed to jolt the economy out of suspended animation that has gripped it for more than two decades.
Despite government efforts, export growth slowed down to 9.5 percent annually at $51.47 billion. Imports jumped a quarter to $78.82 billion.
The cost of imports grew, as the yen depreciated, and purchases of oil and gas increased, as well as demand for semi-conductors. These reached new monthly highs, says the Ministry.
From a year ago the yen depreciated by 20.2 percent from 86.93 yen per dollar to 104.53.
In January export volume fell by 0.2 percent, the first decline in four months, while imports gained 8 percent.
Analysts expected exports to increase 12.7 percent and imports - 22.7 percent. The trade deficit was forecast at $24.3 billion.
A higher trade deficit was one of the key drags on GDP, that grew just 1 percent in the fourth quarter. Lower use of nuclear energy and the increasing cost of alternative energy sources has worsened the situation.
"Japan is paying the price for the transformation of its energy policy," said Naohiro Niimura, a partner at Market Risk Advisory Co. in Tokyo. "This trend in Japan's trade balance will continue for a while, eroding the strength of the economy little by little."
Crude oil imports increased more than by quarter - 28.1 percent comparing to 2012, liquefied natural gas consumption was up by 21.4 percent.
Ruslan Aymalov, Business RT
You can share this story on social media: