Japanese stiff upper lip to encounter disaster aftermath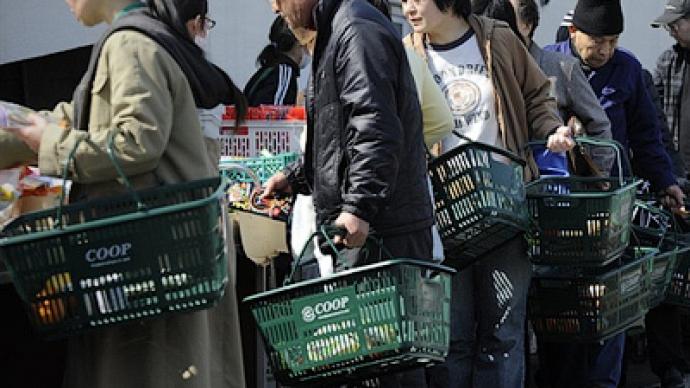 Millions of residents have spent a third night without water, food or heating along Japan's devastated northeastern coast. Commuter chaos, kilometer-long queues and fears of nuclear contamination are on the daily agenda after the earthquake disaster.
The tsunami that hit the Japanese islands from the Pacific on Friday has led to food and water shortages as well as electricity black-outs in the country. Residents said supermarket shelves were empty by Sunday night, with people stocking up on water and tinned or dried food. With ports and road links disrupted, fears of food shortages also led to a rush on shops and supermarkets on Monday.Due to the public transport collapse, people cannot get away to safer regions. Services were reduced or suspended on many regional train lines amid the power cuts, as authorities tried to reduce the load on the electricity network.Power black-outs are spreading across Japan, with electricity production at extreme lows after the blasts at the nuclear plants. While most petrol stations in Tokyo still have supplies of fuel, long lines of cars are forming outside as drivers rush to fill their tanks.The authorities have announced a 70 per cent threat of another earthquake. A magnitude-7 quake will possibly hit the country within three to seven days. People prefer to stay in secure relief centers and are not planning to return home for at least six weeks more. According to officials, more than 2,800 people have been confirmed dead, including the 1,000 bodies found Monday washed up across the Miyagi coastline. More than 3,000 are missing and another 1,900 were injured. The Miyagi police chief has said that more than 10,000 people are estimated to have died in his province alone, which has a population of 2.3 million.
You can share this story on social media: