Thousands of semi-laid-off Italians slam welfare shortage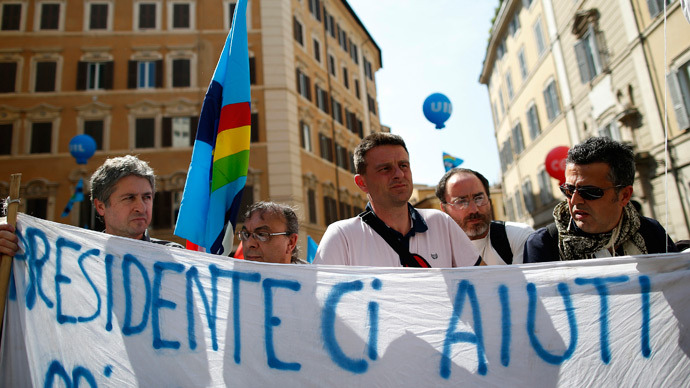 Thousands of Italian workers protested in front of parliament, demanding that the government finds almost $2 billion extra to pour into a drying out welfare fund. The money would go to provide for some 700,000 idle employees.
The protest was organized by Italy's trade unions, which joined forces due to the concern over what may end as a major social calamity. They are worried over the so-called "Cassa integrazione in deroga" (Cig) scheme.
Under Cig, employees are temporarily laid-off and receive part of their regular salary paid jointly by the employer and the government. This year alone some 520,000 have been sent home this way, while overall an estimated 700,000 workers are receiving Cig benefits. But the government fund used to sponsor the scheme is about to run dry.
Susanna Camusso, the leader of Italy's biggest trade union, CGIL, first raised the alarm about the shortage on Sunday, saying that Cig payments were at risk for half a million workers.
Labor Minister Elsa Fornero confirmed on Monday that the situation is indeed grave, but assured that the government will try to garner at least part of the necessary funds.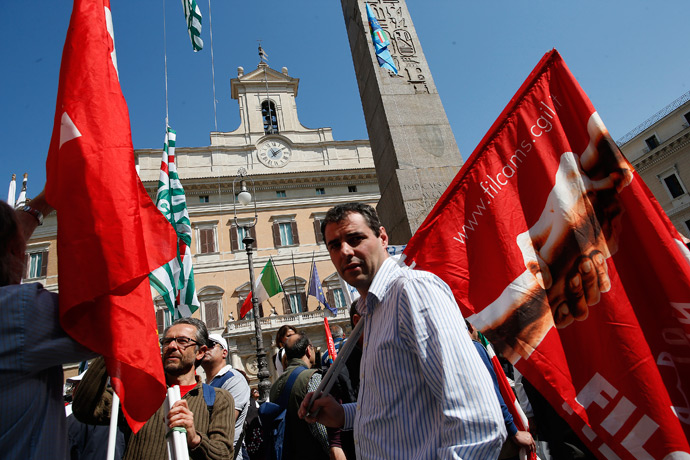 The commitment however didn't convince the trade unions, who took their followers to the streets on Tuesday in a massive rally. They suggest that the welfare money can be found at the expense of military spending, by cutting waste or taxing financial assets.
"The government has no more alibis," Camusso said. "If we don't get assurances then there will be more protests, we will continue to occupy the squares of this country."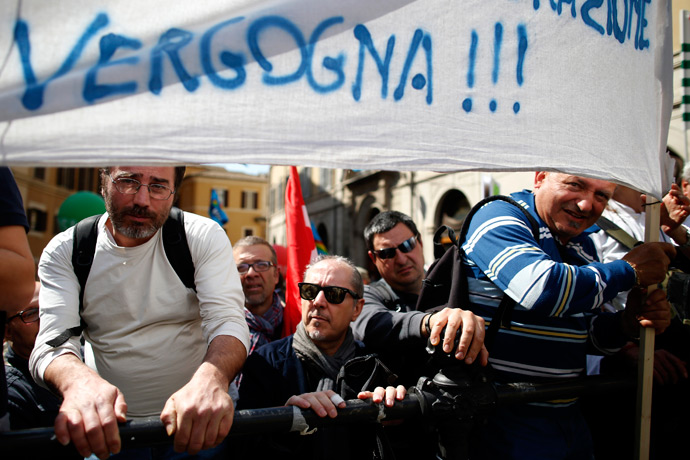 The protesters seemed to be determined to secure the continuation of Cig and not join the ranks of officially-unemployed Italians, who are numbered at 3 million at present. One told Euronews that he is desperate enough to rig himself with explosives and blow them up to force the government to listen.
Italy is currently suffering from its longest recession in 20 years, struggling to deal with its $2.5 trillion public debt while maintaining budget deficit within the European Union's limits.
Last month Prime Minister Mario Monti's cabinet slashed its growth forecast for 2013 to -1.3 per cent from -0.2 previously. It also raised its fiscal deficit target to 2.9 per cent of gross domestic product from 1.8 per cent previously, which is just below the EU-allowed 3 per cent threshold.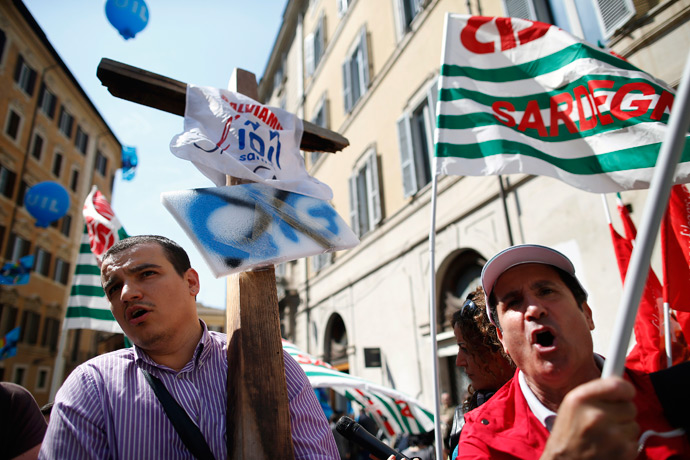 The situation is aggravated by the political stalemate, which left Italy with Monti's caretaker government after the parliamentary election in February failed to produce a party with enough seats to form a proper government.
The country's national and regional lawmakers are due to meet Thursday to elect a new president in a vote, which may last several days. The new head of state would have to decide whether to give Italy's parties a new chance to form a coalition or call a new election.