Job lottery: Italian supermarket offers shoppers chance to win employment
Published time: 30 Nov, 2012 14:28
Edited time: 30 Nov, 2012 18:34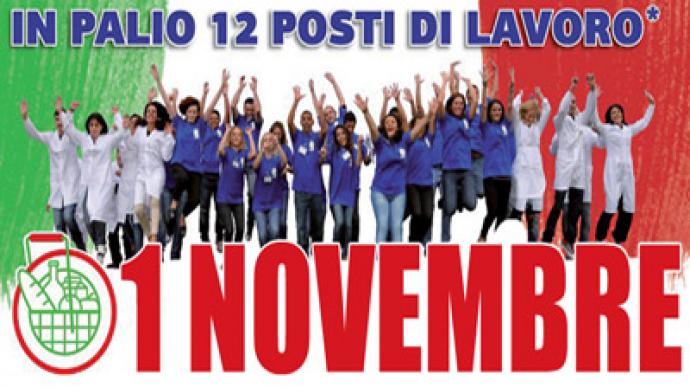 Spend 30 euro and win a job! An Italian supermarket is offering its customers a lottery with a difference. The raffle is the brainchild of OnePrice, which has been accused of self-promotion amidst Italy's worst unemployment in over a decade.
­"Our competition is open to everyone, of any age or social class," said Alessandra Aloisi, human resources manager at Gruppo BSE, which controls three OnePrice supermarkets in the Italian capital.

"Some participants are even asking if they can pass the prize, that is the job, on to a relative or friend," she said.

For a chance to win the position of a part-time shelf-stacker or cashier, customers need only keep their receipts after spending a minimum of 30 euro. The prize in question is a part time contract for 24 hours a week with a monthly salary of 1,100 euro (US$1400).
"It's a way of getting to know the person. No one says that what begins as a temporary contract can't be turned into a permanent one for any of our winners," Aloisi told Italian newspaper, Corriere della Sera.

Tommaso Dilonardo, president and founder of the Work in Progress foundation in Italy condemned the new initiative as "a slap in the face" for the numerous unemployed.
"A job cannot be reduced to a prize won through a lottery in a country where people are fighting to get into work," Dilonardo underlined to Italian publication Libero Quotidiano.
Aloisi dismissed accusations that the lottery was a publicity stunt, maintaining that OnePrice just wanted to give people a chance in times of difficulty. Aloisi did concede, however, that the initiative had been quite popular amongst supermarket shoppers.
"Some companies invest in other prize competitions, like free-holiday contests," Aloisi said. "We think it's more ethical to offer a job opportunity, even a temporary one."
In 2009, one Italian supermarket chain, Tigros, already organized a lottery with job as a prize. A customer casts her lottery card. (Reuters/Alessandro Garofalo)
Record unemployment
Italy's unemployment has reached record levels, rising to 11.1 per cent in October. The recession in the country looks likely to extend well into next year and the Organization of Economic Cooperation and Development has forecast that unemployment will rise to 11.4 per cent.
In response to the increase in joblessness, technocrat Prime Minister Mario Monti has proposed a loosening of dismissal regulations, while encouraging the use of apprenticeships and part-time employment.

Monti declared that Europe was overcoming the financial downturn last week at a UAE-Italy business forum in Dubai.

In spite of his optimism, Brussels revealed that Europe's economy had shrunk 0.1 per cent in the third quarter and will remain weak for the time being with unemployment levels "deplorably high."