Italian girl 'sexually assaulted' riot cop with a kiss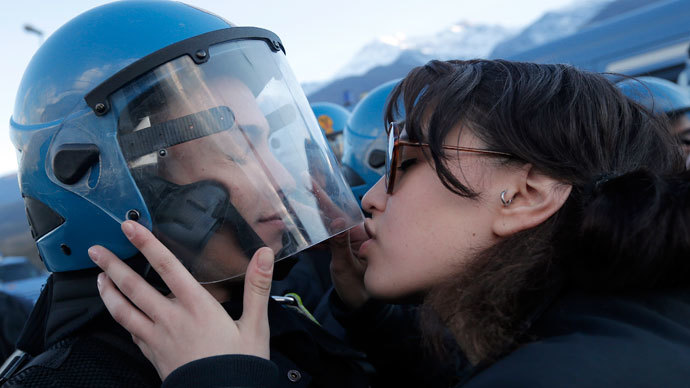 An Italian student protester may end up in court after a photograph of her kissing a riot police officer started making the rounds and became hailed as a symbol of peaceful protest. She may now face sexual assault charges.
The incident happened in November during a demonstration against the construction of a rail link in the north of Italy.
Nina de Chiffre, a 20-year-old protester, had used the opportune moment to first kiss, then lick a police officer's helmet visor. The moment was caught on camera, and the photo ended up going viral. It was hailed as an example of sending a message of love and peace and non-violent protest.
But the situation quickly went south for de Chiffre, after the Italian police union – COISP – ruled that the act was in fact sexual assault, and filed a complaint with a court in Turin, Italy's La Repubblica reported this week.
"We have accused the protester of sexual violence and insulting a public official," said Franco Maccari, COISP's general secretary, adding that the union "fully [expects] an investigation to start".
Seeing the matter in a positive light is not on the cards, apparently, because "if the policeman had kissed her, world war three would have broken out," Maccari continued. "Or what if I had patted her on the behind? She would have been outraged. So if she does that to a man on duty, should it be tolerated?"
Maccari appears very angered by the incident and doesn't see any message of peace in it. He said it was "hardly a peace gesture, more a provocation."
"A kiss is a positive thing," he said, "but in this context, between these two people, it was just disrespect," Maccari concluded.
De Chiffre's own explanation of her actions may surprise her supporters as well, as it confirms Maccari's assessment.
"No peace message… I would hang all these disgusting pigs upside down," the young Italian wrote on her Facebook page, local media reports.
Talking to La Repubblica, she explained that the kiss was an act of indignation at the police force for allegedly beating up another demonstrator.
But now her act of defiance has not only brought her wide acclaim, which she apparently had not asked for, but also may land her a criminal record.
You can share this story on social media: