PM Monti to resign after Italy's 2013 budget: Berlusconi rising?
Italian Prime Minister Mario Monti has told President Giorgio Napolitano that he intends to resign after making sure the country's parliament passes next year's budget.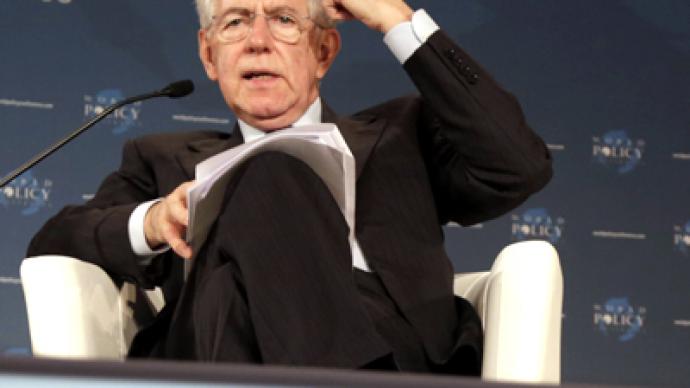 According to a statement issued by the president's office, Monti does not consider it possible to further carry out his responsibilities, and has accordingly expressed his intention to resign.Giorgio Napolitano's office announced Monti's plan to resign on Saturday night after the head of state met with Monti for nearly two hours at the presidential palace in Rome.The announcement comes a day after former Italian Prime Minister Silvio Berlusconi's People of Freedom party called for an "orderly" end to the current emergency government, withdrawing its support to Mario Monti.
"We want to conclude this parliamentary term in an orderly fashion without sending the institutions and the country to rack and ruin," the People of Freedom Secretary Angelino Alfano said after his party went against Monti's government in two confidence votes Thursday."This has nothing to do with Monti as a person, his service to the institutions and his honesty with the political parties and with us in particular," Alfano added.Meanwhile, Silvio Berlusconi announced he is dropping his plans for retirement and would be running to regain the premiership for the fourth time in elections in early 2013.
"I have always entered the race to win," Berlusconi told reporters outside the training facilities of his soccer team AC Milan on Friday.Speaking of the seat of the Italian goverment, the former television magnate said, "this is a thing that I never missed, not even for a minute. I return in despair to politics and I'm doing it again for a sense of responsibility.''The announcement came amid Berlusconi's current legal troubles, being convicted of tax fraud earlier this year. The former prime minister is also on trial for allegedly paying for sex with an underaged prostitute, charges he strongly denies. The 76-year-old politician resigned in November 2011 over Italy's economic troubles.
You can share this story on social media: