Former Italian PM Berlusconi gets 1-year reduced sentence for fraud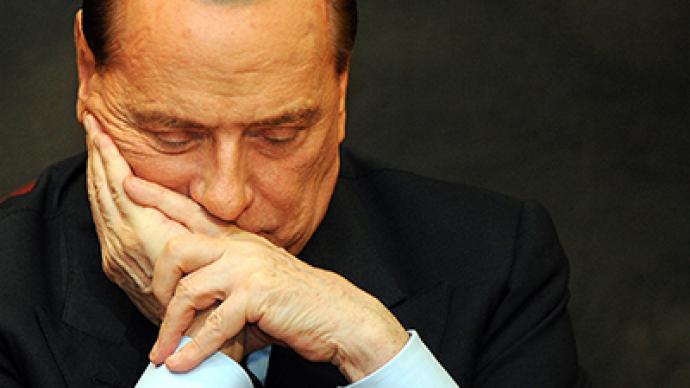 Former Italian PM Silvio Berlusconi has been sentenced to four years in prison for tax evasion by a Milan court. His sentence was immediately reduced to one year under a 2006 amnesty plan to ease overcrowding in in Italian jails.
The court also ruled on Friday that Berlusconi is forbidden from holding any government post for three years.His lawyer called the decision "incredible" and is hoping for a different ruling upon appeal.Berlusconi decried what he claimed was a politicized verdict stemming from what he views as left-leaning magistrates while speaking on his Mediaset television station Friday."If you can't count on impartial judges in a country, the country becomes uncivil, barbarian and unlivable and stops being a democracy. It's sad, but the situation of our country today is that way," he said.The likelihood of Berlusconi actually spending time behind bars remains to be seen, as verdicts in Italy are only finalized after passing through two stages of appeal. The fact that three-years were immediately shed from his sentence has served to deflate his opponents hoping that charges would eventually stick after the ex-PM's long and seemingly never-ending legal troubles.The statute of limitations in the current case is set to expire at some point next year.Berlusconi and 10 other defendants were charged with a scheme to purchase the television rights for US movies to be broadcast on the three time premier's private television networks via a complex web of offshore companies. The prosecution says Berlusconi and his partner Fedele Confalonieri then falsely declared payments to their Mediaset TV company to avoid paying taxes. They were also accused of artificially inflating prices for the TV rights of some 3,000 firms which were relicensed on Berlusconi's networks, earning 250 million euro in illegal profits in the process. The ruling in protracted 6-year legal battle comes two days after Berlusconi, 76, announced he would not run to reclaim his former position as Italy's prime minister in upcoming parliamentary elections.
Berlusconi tendered his resignation last November amid Italy's spiraling debt crisis.The verdict on Friday marks the first time Berlusconi has been convicted in court despite a series of past trials that ended in acquittal or were thrown out on legal technicalities.Italy's longest-serving premier held office for three terms, totaling nine-and-a-half years. He will likely be better remembered for his association with a string of high-profile sex scandals than for his political career.A chain of allegations and dubious reports have surrounded Berlusconi since 2007, but the most notorious case erupted in 2010 when a 17-year-old Moroccan dancer named Karima – known as 'Ruby the Heart Stealer' – revealed that Berlusconi gave her 7,000 euros and jewelry.The dancer denied having sexual intercourse with Berlusconi, but vividly described the scandalous private parties thrown by the media tycoon.
Ruby's now infamous erotic ritual, whereby nude women formed a ring around Berlusconi and/or his friends in some form of aquatic orgy, permanently seared the phrase "bunga-bunga" into the popular consciousness.All of his highly publicized PR moments were not equally pleasant. In December 2009, an enraged local with a history of mental illness lobbed a statuette of the Milan cathedral at Berlusconi's head while he was making a public appearance in his home city. The then prime minister suffered two broken teeth and a broken nose and was hospitalized for treatment.Apart from raucous bashes or getting raucously bashed, Berlusconi was long accused of using his media empire to bolster his political career, and was regularly accused of bribery, corruption and ties to the mob.In October 2009, the media mogul claimed he was "the most legally persecuted man of all times." Berlusconi claimed to have subjected to over 2,500 court hearings, costing him 200 million euro in the process.
You can share this story on social media: