Italian island swept by wave of African refugees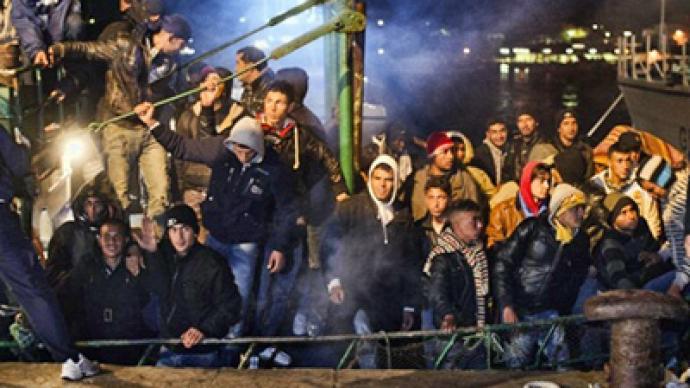 Italy has declared a humanitarian emergency on its island of Lampedusa, as the small land mass drowns under a wave of illegal immigration from the instability of North Africa.
Five thousand refugees have already reached Lampedusa's shores, with Rome warning of up to 300,000 more to come.The tiny Italian island of Lampedusa, located 80 miles off the coast of North Africa, has relied on fishing and tourism as its main sources of income.But for the first time in years, the boats are in harbor and the nets are dry."We can't work. They are always out there. We haven't gone out to sea for 20 days now," complains fisherman Simone Policarde.Since the recent uprising in Tunisia, the island has been flooded with refugees. Over 5,500 arrived in just two weeks.Sometimes up to 300 refugees will cram on just one tiny fishing boat to make the perilous journey to the Mediterranean island.Dozens have already drowned. Many of those who made it ashore have nothing to lose, turning life for the local Italians on its head.Refugees have no money and no jobs, and there have already been cases of vandalism and theft."We started leaving the lights on at night. They always wander around. None of the locals ever used to lock their doors. Now that these people are here, we feel uncomfortable," says Lidia, a local resident.Due to its location, Lampedusa is no stranger to asylum seekers, but never so many in such a short period of time.Officials say identifying genuine cases is one of the biggest problems.Most asylum seekers are housed at a refugee center, where they are provided with food, water, clothes and medical aid – all financed from the state budget.The center is designed to house only some 800 people. So, under tight security, hundreds of refugees are flown to the mainland each day.According to the airport's spokesperson, Davida Masia, an average of two planes with refugees leave every day. They go to Crotone, Bari or Palermo.Italy and Tunisia used to have an agreement under which most refugees were intercepted before ever reaching the island.But now that the Tunisian government has been overthrown, the flood gates have opened.And with violence continuing to spread both in North Africa and the Middle East, Italy has already warned other EU states that up to 300,000 refugees could flee Libya alone.For decades, Lampedusa managed to remain a tiny isolated world of its own, with local residents living a peaceful life where no one was afraid of leaving their doors unlocked.But now times have changed. And the biggest wave of refugees may still be out there, which could not only flood the tiny Italian island, but the entire continent.
You can share this story on social media: