Rome speeding into austerity future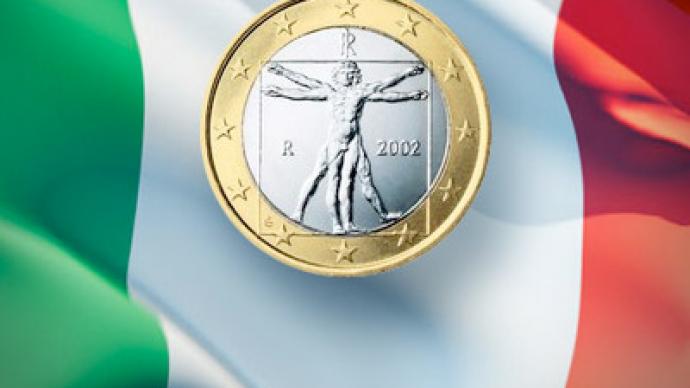 Italy's parliament has approved the package of dramatic public spending cuts in a Friday vote, despite hundreds of protesters boiling with anger at the prospect of the national healthcare program being overhauled and retirement ages increased.
Hundreds of public employees, pensioners and other citizens in Rome are outraged with the work of the Italian parliament's lower chamber, which has approved the austerity package worth of some 48 billion euro with 316 votes for and 284 votes against. Government officials hope that "the overall impact will be more than 70 billion euros," reports the Italian news agency ANSA. The austerity measures will hamper Italy's national healthcare program, making it less budget funded. The adopted package will put an end to free-of-charge visits to national health doctors, taking out ten euros from citizens' pockets for every visit. Costs for prescribed analyses will also be covered in accordance with a price list, while non-emergency care at hospitals will set patients back 25 euros.The measures are also to affect Italy's pension system with retirement ages gradually to be raised in line with life expectancy. The tax rate for people with pensions of over 90,000 euros a year is also to be increased.Another cost-saving measure in the package is merging small municipalities to form single administrations, which will result in redundancies and reshuffles. Public sector wages and hiring will be frozen for at least one more year."I think this law is deeply unfair because once again, with the usual methods and with the usual measures, it hits the usual suspects," pensioner Carlo Amelia told the Associated Press.Still, the Italian government cannot be said to be playing down the public sector only. Rome is looking into privatizing state-owned companies, such as the state railway or postal services, once the crisis eases.The new law will also allow Italy to raise its sovereign debt to 120 per cent GDP next year.Italy's government hopes the belt-tightening will provide some 20 billion euros required to balance the country's books in 2013 and 2014, reports Corriere Della Serra newspaper.Friday's discussion in the Italian parliament and the final vote approved the measures seen as crucial to keep the eurozone's third-largest economy from falling into the black hole of debt crisis. Italy, a country marked by a debt of 1.88 trillion euros and low growth, might prove far too expensive for Europe to rescue.
You can share this story on social media: