First steps: ISS's 'Robonaut' gets new legs for Easter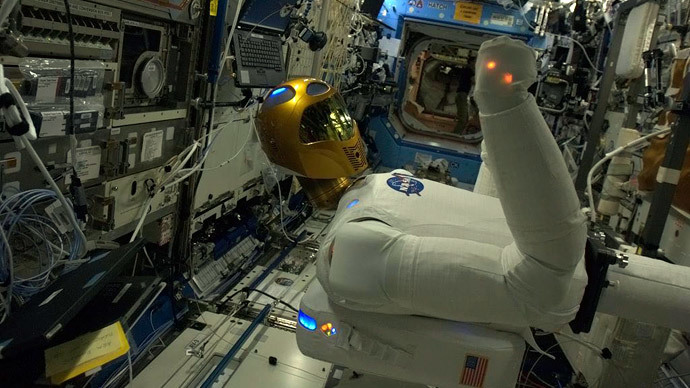 Robonaut R2, the first robotic humanoid working on the International Space Station, has finally received its legs. The 'present' to R2, delivered by a SpaceX rocket, marks one more milestone in space humanoid robotics.
Robonaut, currently only a torso, head and arms, is attached to a support post and has been operating on the ISS for three years.
The new legs, delivered to R2 on Easter Sunday morning, were funded by NASA's Human Exploration and Operations and Space Technology mission directorates. They will make R2 mobile and give it the means to help the ISS crew with regular and repetitive tasks, inside and outside the station, such as cleaning chores and fetching things.
Each leg is 1.2 meters long and will enable Robonaut to climb and move around the 420-km-high outpost.
"Legs are going to really kind of open up the robot's horizons," said Robert Ambrose from NASA's Johnson Space Center in Houston.
Legs are on the way! #SpaceX

— Robonaut (@AstroRobonaut) April 18, 2014
With new legs, R2 will be at least 2.5 meters tall. Their design was based on the tether attachments used by spacewalking astronauts.
According to Ambrose, the legs look "a little creepy" when they move because of the number of joints - seven - and a device on the robot's 'feet' called an end effector, which allows the robot to take advantage of handrails and sockets inside and outside the station. Each effector has a light, camera and sensor for building 3D maps.
"Imagine monkey feet with eyes in the palm of each foot," said Robert Ambrose from NASA's Johnson Space Center in Houston, "I hope my knee never bends that many degrees, but Robonaut has no problems at all."
According to Ambrose, Robonaut has already shown that it can measure the flow on air filters, which is "a really crummy job for humans," he added.
Overall $17 million was spent on the Robonaut project. The cost of the legs is at least $14 million ($6 million to develop and $8 million to build and certify the Robonaut). Meanwhile, the torso of the robot along with head and arms cost about $2.5 million, which doesn't include Robonaut's development and testing expenses.
However, R2 will be limited in its mobility until it gets a battery backpack which is due to arrive later this year. Until then, the robot will need a power extension cord to stretch its legs and will be restricted to the testing area on the US side of the ISS.
The 136-kg R2, built and designed at NASA Johnson Space Center in Houston, Texas, was taken to the International Space Station (ISS) in 2011. It has about 350 sensors and 38 PowerPC processors.
Legs for @AstroRobonaut launch aboard @SpaceX#Dragon to #ISS @ 3:25p ET today: http://t.co/J3UolX6W5qpic.twitter.com/CLjshajQFC

— NASA (@NASA) April 18, 2014
Meanwhile, the question remains whether R2 is now able to perform various spacewalk repairs. According to NASA's space station program manager, Mike Suffredini, there's still "quite a ways to go" before future Robonauts perform spacewalk repairs, because giving such a job to robotic humanoids is a big challenge.
"They won't ever replace the crews, but they could do a lot of the jobs," Suffredini added.