ISS crew fixes coolant leak during spacewalk
The crew of the International Space Station (ISS) has taken an unscheduled spacewalk to inspect and fix a coolant leak in its power system. During a nearly six-hour-long spacewalk they have installed a new cooling system pump.
The ammonia coolant, which was leaking into space, is used to dissipate heat from the station's solar panels. Each of the four panels has an independent coolant system, which means the station will not be left without power if the problem persists.
Astronauts Chris Cassidy and Tom Marshburn inspected the pumps and replaced a pump controller box from which the coolant was suspected to be leaking. The device contains the mechanical systems that drive the cooling functions of the affected solar panel.
The decision to conduct EVA (extra-vehicular activity) was made after NASA and its Russian counterpart Roscosmos discussed the situation on Friday.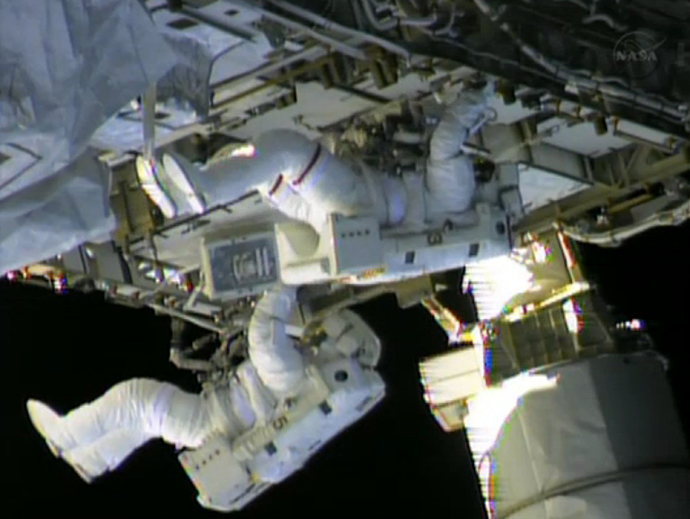 "They [NASA] have a serious problem, really serious. In situations like these we must make concessions as a partner," Russia's ISS mission chief Vladimir Solovyev explained.
The leaking system has been in the orbit since November 2000, and was relocated from its original position in 2007.
The ISS had a similar problem in November that also required an emergency spacewalk to solve. The loop affected this time is the same one that caused trouble last year.
The leak was discovered just days before the Expedition 35 crew is scheduled to return to Earth.