Israelis clash over electoral reform as election day nears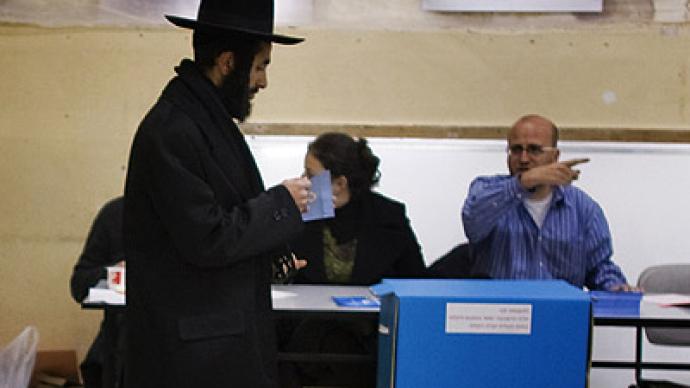 As the Israeli vote looms, calls to reform the electoral system grow louder in the country. Critics say there's no democracy in Israel as small factions enjoy too much power by holding the government hostage.
Next month Israel will see another parliamentary election – an event that takes place almost every two years, which is considered by some Israelis as far too often.The country has swapped more than thirty governments in 64 years. 20 Israeli interior ministers, 14 foreign ministers and 15 justice ministers have been and gone in the last twenty years.A growing number of Israelis have had enough as they join a movement to change the political system, RT's Paula Slier reports from Israel.Tzipi Livni, the head of new centrist party "Hatnuah" and former opposition leader, believes the underlying reason for such government rotation is a flaw in the system."In my political career, I was minister of regional cooperation, minister of agriculture, minister of housing and construction, minister of immigrant absorption and minister of justice. I've even held these posts simultaneously. It doesn't mean I'm talented – it just shows that the system is so messed up," Livni said at a conference for the electoral system reform back in November.Government ministers change so often that before they start making any effective long-term planning, they are "no longer there," Yuval Lipkin, CEO of Citizen's Empowerment Centre told RT.Another problem is that the new generation of Israeli voters gets fed up with going to polling stations."A young citizen goes to elections so many times, he starts to lose the sense that this is a democracy. Not for nothing over the past 10 years, voter turnout has decreased from 80 percent to 64 percent," Shlomo Zidky, CEO of "Israel's Hope" non-government organization told RT.The reason that no government has survived a full term in office for decades is the system of proportional representation and the way government coalitions are patched together, critics argue. Larger factions woo smaller ones with promises to protect their interests, but this leads to inevitable division and instability inside the coalitions and the disproportionate leverage for the minority groups."The system here weakens the political center, and gives a lot of power to the sectoral parties, ultra-orthodox, ultra rightists, right wing extremists and so on, and in fact the centre becomes a hostage to these marginal groups. There's no democracy, there's minoritocracy. The minority rules over the majority," Shlomo Zidky explained.Under the Israel's electoral system, the seats in parliament are allocated according to the percentage of overall votes each party receives in a single, nationwide election. Any party gaining at least 2 percent of the vote may enter parliament.More Israelis are calling for changes to these rules, including the likes of Meir Dagan, former Israeli intelligence service chief, who started the "Yesh Sikui" ("There is a chance") grassroots movement.Dagan, along with other Israeli political activists, has spoken for an alternative electoral system, with half of the MPs voted into office in regional elections.The activists believe this will make MPs responsible directly to the voters, as opposed to party and coalition interests, as well as encourage the civic consciousness. The election threshold should also be raised, they add.But changing the electoral system isn't that easy in Israel, as it requires amendments of the country's Basic Laws – key components of Israel's unwritten constitution. Even majority support won't help the cause as every parliament faction can veto such change.Electoral reform has already been blocked by Shas, an ultra-orthodox religious party, which has 11 out of 120 seats in Israeli's legislative body, the Knesset, but enjoys significant political influence nevertheless.Some Israeli parties are split over the reform controversy, with opinions ranging from "best electoral system in the world" to "the harshest disease that causes all the problems," as Jerusalem Post has cited.The opponents of change say no government is perfect and system reform is a myth. "There is no lack of governance, there's over-governance… The problem isn't governance, but who is in the government," Shelly Yachimovich, leader of the Israeli Labour party said at the electoral system reform conference.Still, Israeli voter tolerance is running thin. The latest figures suggest more than half of the population is unhappy with their government's performance.
You can share this story on social media: