Shawl male rule: Israeli police detain ten women over 'improper attire' at holy site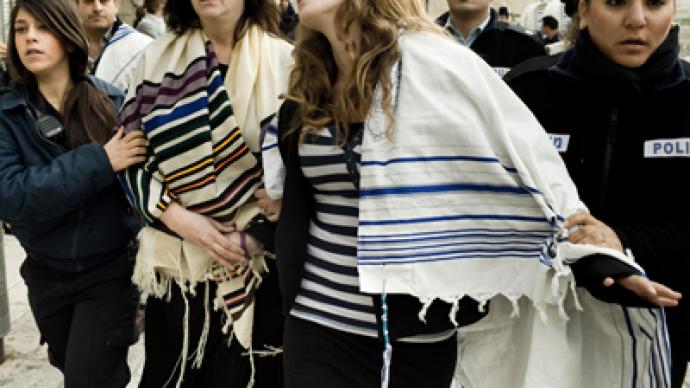 Ten female activists have been detained by police for trying to pray at the Western Wall in Jerusalem. Authorities accused them of taking part in practices that Orthodox Judaism reserves for men.
The incident occurred at the Western Wall – a site that has welcomed prayers from Jews for centuries.The women belong to "Women of the Wall," a liberal group which works for equal access for all Jewish denominations and practices at the sacred site. They conduct certain rituals, such as wearing prayer shawls and skullcaps and singing out loud.While their activities may seem normal enough to many, there was a problem in the eyes of the Israeli police – strict Orthodox Judaism reserves their practices and garb for men. It's precisely that rule on attire that the group was protesting while they attempted to pray at the women's section of the Wall – but Israeli police were anything but impressed with their efforts on Monday."They (police) said 'take off your prayer shawls', and we said 'no," Susan Silverman, who was among the detained, told Reuters.Police Spokesman Micky Rosenfeld said the women acted against court-ordered regulations which bar women from wearing prayer shawls at the Western Wall so as not to offend Orthodox Jewish worshippers. The women were released after close to three hours of questioning.But members of the group aren't so quick to accept the authorities' explanation. "This is just attrition," said Women of the Wall chairwoman Anat Hoffman, who was among the detained. "They want to the group to become frightened," she said.Silverman said the Orthodox tradition barring women from wearing prayer shawls amounted to "spitting on Sinai," referring to the site where the Bible says God handed the ancient Israelite leader Moses the Ten Commandments."All Jews are in a covenant with God," regardless of their gender, she said.It's not the first time members of the group have been detained for similar reasons, although Hoffman says none of the members have ever been formally charged with a crime.The women had hundreds of supporters at the Wall, including dozens of male followers who joined them in prayer from the other side of the barrier that separates the sexes. But their fans don't stop at the other side of the divide.Two of those detained were the sister and niece of American comedian Sarah Silverman. The comic wrote on her Facebook page that she was "SO proud" of her sister and niece for their "civil disobedience." Two of the women held by police were American rabbis from the egalitarian Conservative Jewish movement, who missed a scheduled meeting with the Jewish Agency chief to discuss the very issue that landed them in police custody, according to Hoffman.
You can share this story on social media: