​Israeli Supreme Court to hear war crimes case against top officials – report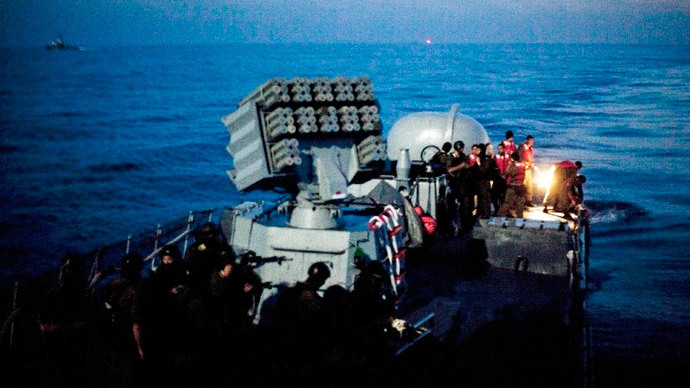 In a unique hearing next week, the Israeli Supreme Court will be presented with a petition that reportedly contains evidence implicating a number of high ranking officials in war crimes during military operations in Lebanon and Gaza, Al Jazeera reports.
For the first time in history the Israeli judiciary on April 2 will hear evidence against top officials blamed for committing war crimes in Lebanon and Gaza, according to the report.
The Supreme Court will be presented with a 52-page petition outlining Israel's alleged crimes in three operations in Lebanon in summer 2006, Operation Cast Lead in Gaza in late 2008, and an attack on a humanitarian aid flotilla in May 2010.
The hearing will focus on "strong factual and legal findings" from public sources, including reports of Israeli official inquiries, that may implicate a number of high-ranking military and political heavyweights including Former Prime Minister Ehud Olmert and current Justice Minister Tzipi Livni among others.
The charges are being brought by a Palestinian lawyer and former senior prosecutor at The Hague, Marwan Dalal. His evidence reportedly includes statements from senior Israeli officials where they allegedly implicate themselves in such crimes as unjustified killings, collective punishment and attacks on civilian infrastructure.
Dalal and his human rights group Grotius, believe that such actions breach the Fourth Geneva Convention as well as Israeli law. Furthermore Dalal will try to convince the court on that Israeli police are required to investigate the evidence for possible indictments for war crimes.
"The evidence is in the public realm and obliges Israeli prosecutors to order investigations," he said. "The failure to do so is unreasonable conduct and the court must rectify the matter."
Besides Olmert and Livni, the petition also implicates two former military chiefs of staff, a former domestic intelligence chief and a former minister of defence.
There is factual evidence of war crimes contained in official Israeli reports produced by the Winograd inquiry into the 2006 Lebanon war and the two Turkel inquiries into the 2010 attack on the aid flotilla, according to Dalal's petition. For more evidence, the lawyer also closely studied the results of UN-appointed investigations, including the Goldstone commission into the attack on Gaza in late 2008, and two commissions, led respectively by Karl Hudson-Philips and Geoffrey Palmer, into the flotilla attack.
"There has been no discussion in Israel of the responsibility of high-ranking officials for issuing apparently illegal orders such as using white phosphorus in built-up areas, the adoption of flexible open-fire regulations, and a policy of targeting certain population groups, such as males over a certain age," Sarit Michaeli, a spokeswoman for B'Tselem, an Israeli human rights group, told Al Jazeera.
Israel's stated that the objective of the 2008 Gaza War, also known as Operation Cast Lead was to stop rocket fire into Israel and weapons smuggling into the Gaza strip. But Palestinians claim children were being used as human shields while hospitals were also targeted during the 23-day conflict. Overall more than 1,400 Palestinians died in the Israeli operation, including more than 300 children. The IDF was accused of a disproportionate response to Hamas rocket attacks, but there were no criminal convictions following that military operation.
You can share this story on social media: