Israeli PM slams US spying activities as 'unacceptable', demands investigation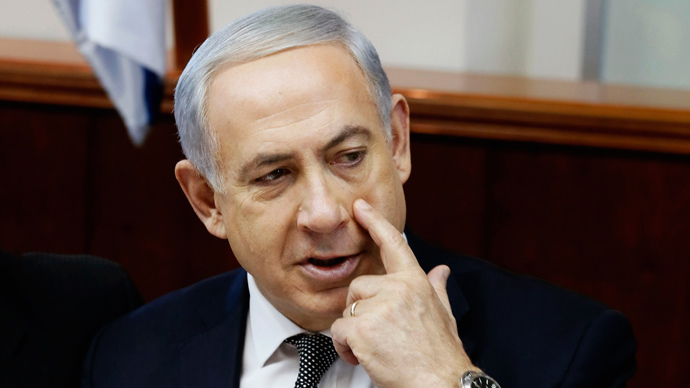 Israel's Prime Minister has condemned the US spying on Israeli leaders, saying such things are "unacceptable" and "must not be done" between close allies. Benjamin Netanyahu has demanded investigation into the matter.
"In the close ties between Israel and the United States, there are things that must not be done and that are not acceptable to us," Netanyahu said speaking to the left-wing Likud party meeting in the Knesset on Monday. "With regard to things published in the past few days, I have asked for an examination of the matter."

However, Netanyahu did not say if Israel intended to ask Washington for clarifications.
The Prime Minister has broken his silence after avoiding harsh statements amid growing fury at a meeting of the Israeli cabinet the previous day. His reaction narrowed to comments on Jonathan Pollard, a spy jailed in the US for passing classified information to Israel. Critics of Netanyahu suspected the Prime Minister was playing down revelations about US spying amid talks over Pollard's release.
However, on Monday Netanyahu reiterated that the NSA spying scandal and Pollard's case should not be connected.
As in light of the latest revelations, a wave of demands for Pollard's immediate release increased, Netanyahu met with Pollard's wife Esther.
"I have updated her on our ceaseless efforts to liberate Jonathan. He should have been released long ago. I think that's understood by everyone here, and also understood by large and growing sectors in the United States," he said.
Documents leaked on Friday by former US National Security Agency contractor Edward Snowden revealed that the NSA and its British counterpart GCHQ targeted Israeli leaders in a surveillance operation in 2009.
The PM of Israel at the time Ehud Olmert was among those spied on by the NSA and GCHQ, according to the latest leak of files supplied by Snowden.
Though the report only mentioned intercepting the Israeli leaders' email accounts, the Jewish state's Debka news agency claim that NSA "introduced a high-powered, multilayered system of intelligence-gathering – especially against Israel, about which neither Snowden nor the Israelis have been forthcoming."
The news agency, however, does not refer to any source.
The report suggests the NSA had "a single narrow focus". Primarily it was trying "to pick up the slightest murmur or clue" that would suggest that Israel is going to attack Iran's nuclear sites, as it vowed to do without notifying its US ally.
This explains, the report suggests, why "some many-starred general or fast-talking Pentagon officials" were visiting Israel more often in that "period of distrust".
"They were told to ferret out any signs of Israel getting ready for an attack on Iran in time for Washington to step in and stop it," the report concluded.
Last week in response to allegations of spying on Israeli government officials the NSA said it was "not going to comment publicly on every specific alleged intelligence activity."