Israel won't comment on Syria strike, vows to hinder Hezbollah arms shipments
Published time: 1 Nov, 2013 20:13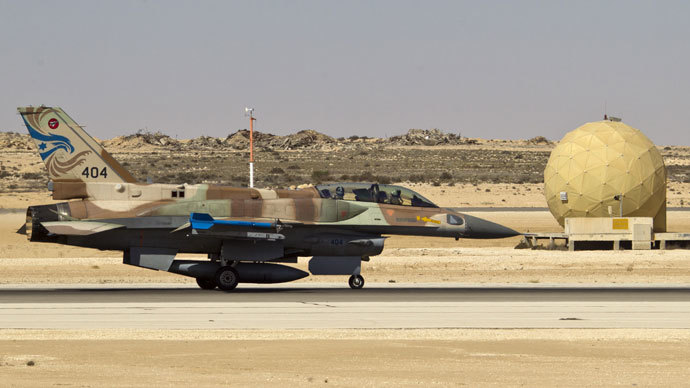 Israel has declined to comment on airstrikes which allegedly hit a Syrian air defense base on Thursday. Instead, officials issued a déjà vu statement which said that Israel will not allow advanced weapons to fall into the hands of Hezbollah.
"We have said many times that we will not allow the transfer of advanced weapons to Hezbollah. We are sticking to this policy and I say so without denying or confirming this report," Home Front Defense Minister Gilad Erdan told Israeli Radio on Friday.
The Home Front reportedly met just hours before the alleged airstrike on Syria's base in Latakia. 
On Thursday afternoon, an explosion rocked an area which housed an air force brigade with troops loyal to Syrian President Bashar Assad, an activist based in the principal Syrian port city of Latakia told Reuters.
The British-based Syrian Observatory for Human Rights, which has a network of contacts in Syria, said there had been up to five explosions at the air force base but that only limited damage was reported. The damage suggested a pinpoint guided missile strike, an anonymous local source told the organization.
A former Syrian intelligence agent who has defected to France alleged that Russian-made ballistic missiles had been stored at the air force base that was attacked.
However, neither Israel nor Syria confirmed that the strike took place at all.
A confirmation came from a US security official instead, who leaked to the press that Israel carried out the strikes and that the target was surface-to-air SA 125 missiles.
Israel was less than amused with the leak. Yedioth Ahronoth, the top selling Israeli daily, said that "Washington is selling our secrets on the cheap."
Israel is believed to have attacked Syria on four occasions, the last time on July 5, 2013. At that time, Prime Minister Benjamin Netanyahu again said that he wouldn't let Hezbollah get its hands on sophisticated weapons.
Israel also attacked a military research center outside Damascus on May 5. The airstrike was confirmed by a senior US official to NBC news, who said that it targeted Iranian supplied Fateh-110 missiles.
A senior Israeli source confirmed to AFP that an Israeli airstrike carried out near the Damascus airport targeted Iranian missiles which were destined for Hezbollah.
The Syrian Ministry of Health did not confirm if there were casualties, though rumors on Syrian social media say that at least 300 soldiers who were stationed there were killed. 
Hezbollah is based in Lebanon and has close relations with Shia states such as Iran. It also has close ties with Assad's Alawite leadership in Syria.
Hezbollah actively supports the Palestinian cause and is in a state of virtual war with Israel. In 2006, a 34-day conflict raged between Israeli armed forces and Hezbollah in Lebanon, northern Israel, and the Golan Heights.