Israel may revive illegal Palestinian home-razing policy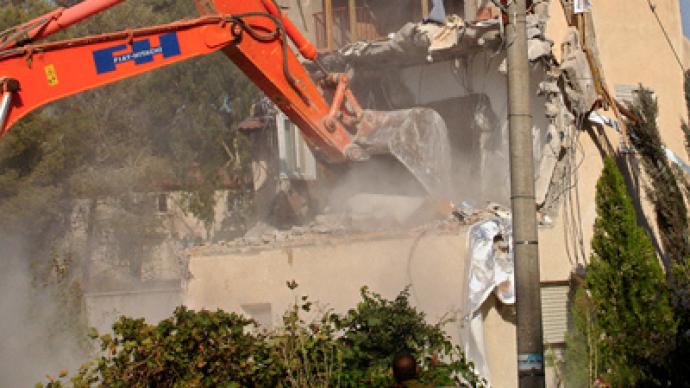 Israel may destroy the homes of jailed Palestinian terrorists. The country's domestic security agency has suggested razing two houses to deter other Palestinians from violence – a move supported by Defense Minister Ehud Barak.
Government legal advisors have yet to decide upon the move, Haaretz newspaper reports. If accepted, it could leave the wives and children of two Palestinian terrorists homeless and will generate harsh criticism both at home and abroad.The recommendation to punish families was made by the Shin Bet domestic security service. The measure has been supported by the Defense Minister Ehud Barak and the IDF chief of staff, Lt. Gen. Benny Gantz, both of whom the Israeli media has accused of influencing the legal advisers. The decision is to become the first of its kind in nearly seven years. In 2005 the Defense Ministry ended the policy of home demolitions aimed at punishing Palestinian terrorists.Israeli authorities agreed that the practice, which was heavily criticized internationally, was not preventing terror.However, the Shin Bet service has argued in its recommendation that the demolitions would be effective and serve as a deterrent to other Palestinians considering attacks.The demolition of homes is considered to be collective punishment and therefore is illegal under both Israeli and international law, as it violates the Fourth Geneva Convention.But the issue is back on the agenda following a villainous murder that shocked Israel one year ago. In 2011, two cousins, Hakim and Ajmad Awad of the Palestinian town of Awarta, were found guilty of murdering an Israeli family. A few months prior they had attacked the home of Israeli couple Udi Fogel, 36 andRuth Fogel, 35, in the northern West Bank town of Itamar. They killed them along with their three children: the two kids aged 11 and four were stabbed to death as well as the third victim – a three-month-old baby girl. Three other children were not discovered by the murderers, thus being orphaned by the massacre.The men are serving five life sentences for the crime. During the court proceedings, both called what they had done a "deed committed for Palestine's liberation" and said they are proud of it.Despite the support of the practice by Mr Barak, members of the Israeli Defense Forces oppose the idea. They warn that it could be interpreted as an act of vengeance that would increase tensions in the West Bank, which has been largely peaceful since the murders.Human rights groups have also condemned the initiative.
You can share this story on social media: