Israeli strike kills two in Gaza as peace talks continue to stall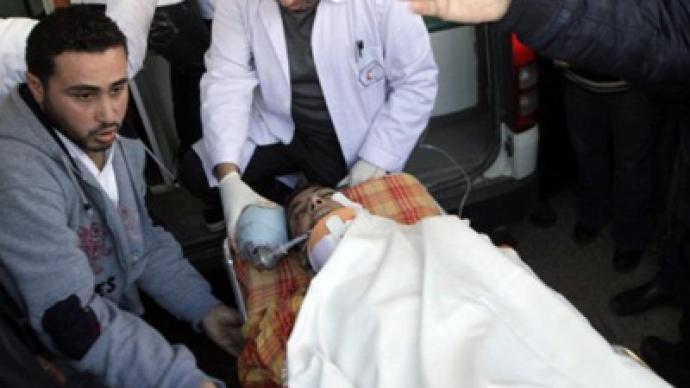 Palestinian officials say two have died and two more were injured in an Israeli attack on Gaza. Israel says it targeted a group of militants it alleges were planting a bomb in this latest bloodshed.
Israeli military officials say tanks and aircraft carried out an attack on militants they claim were seen planting a bomb – which later exploded – along Gaza's border with Israel.  
On the contrary, the Hamas-controlled Palestinian government in Gaza says the victims were civilians and that it holds Israel responsible for their deaths. The victims' relatives say they were setting up bird traps next to the border with Israel.  
The latest row raises the possibility of more tit-for-tat strikes between Hamas militants in the Gaza Strip and the Israeli army. The area hasn't seen large scale violence since 2009, but smaller attacks continue to be carried out by both sides on a nearly monthly basis – with three Palestinians killed in a December Israeli strike.
What further complicates matters is the fact that there are not two but at least three sides to the conflict. Hamas overran Gaza after a brief civil war with Fatah, the force behind the largely-recognized Palestinian Authority, which maintains its control in the West Bank.
Israel continues to negotiate with the Palestinian Authority, despite the fact that official peace talks have been stalled for over three years. On the other hand, Israel refuses to engage in negotiations with Hamas, which has continuously called for the liberation of Palestine from Israeli rule. Hamas is considered to be a terrorist group by Israel, the US and the EU.
Talks between the Palestinian Authority and Israel resumed under the auspices of the Middle Eastern Quartet – the US, the UN, the EU and Russia – on January 3. In October the Quartet asked both sides to produce proposals on territory and security within three months.
But even deadlines are a matter of debate between Israel and the Palestinian Authority, with Israel interpreting the three month period as beginning on January 3 and Palestine placing the deadline on January 26, three months after the October announcement.
Palestinian President Mahmoud Abbas says he would only resume peace talks if Israel removes Jewish settlements from the West Bank and East Jerusalem, territories it acquired following 1967's Six Day War. Israeli Prime Minister Benjamin Netanyahu has repeatedly spoken out against these preconditions, saying the issue of Jewish settlements would be resolved once borders are agreed upon. On Monday, he accused the Palestinian Authority of having no interest in resuming peace talks and said "Abu Mazen [Mahmoud Abbas] is not ready".
Mukhaimer Abu Seda, a political analyst from Gaza, says Palestinians in Gaza have been living under constant threat from Israel for the past two months. "What we have been witnessing over the past two months, basically, is that there have been aggressive verbal attacks on the Palestinians and Hamas in Gaza," he told RT. "We have been experiencing almost daily Israeli threats against Gaza to wage a new war on Gaza, Hamas and the Palestinian resistance groups".
Abu Seda also noted that Israel considers itself exempt from international law, and is not likely listen to the recommendations of the Middle Eastern Quartet regarding Jewish settlements. "It seems to me that the Europeans … are basically speaking up more against the Israeli settlement activity. But the problem is that Israel behaves like a country above international law, and Israel basically doesn't care much about what is being said by the European Union or the Quartet. Israel is paying attention more to its electorate and its constituency, who voted for this government – which is the most right-wing extreme government in Israel, and who is building more settlements and basically isolating the Palestinians in little cantons."
You can share this story on social media: