Surviving in Gaza: Fishing as a feat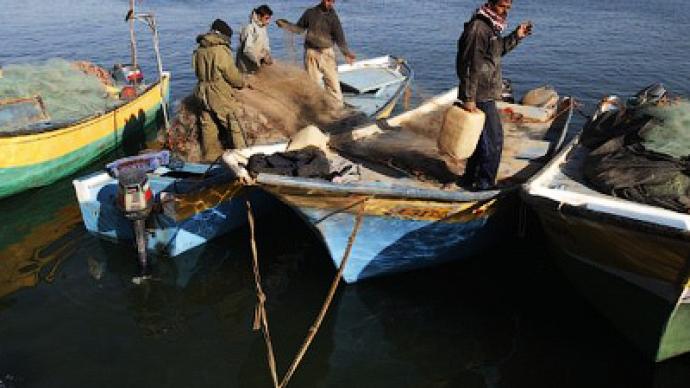 In Gaza people fish under the guns of Israeli naval ships and the latter open fire on boats every now and then. But people living in this bombed besieged area don't have a choice. Fishermen keep going out to the sea each night.
In Gaza thousands of boats go out to the sea and line up along the horizon at dawn. From the land one can see them by their dim lights. In conflict with naval laws, the Israeli authorities prohibit going beyond three miles off shore, and there aren't many fish there. But the fishermen's equipment has long grown outdated and been destroyed during the arrests of their boats so they stay within sight of the shore and stay close together.A bit further away from them, Israeli naval ships also line up. One can easily see them from the shore as well. During my stay in Gaza, servicemen were shooting at boats every other day and the next morning Western media would report that an illegal border crossing or a terrorist attack had been prevented. As a rule, names weren't given though.
After a night like that, I came to the port of Gaza. Presently it's just a ground dam with thousands of fishing boats tied down to it. All port constructions have been destroyed in air attacks. Palestinians have decided not to rebuild it for now, as it would only last till another major shelling. Fathers with children were walking along the dam. Some were sitting with their fishing rods. It turned out nobody had been killed or arrested last night. Fishermen were unloading their catch from their boats. One fisherman put some nice crabs out on top of stones, and sorted out his catch – five boxes of it. Mazin abu Riala is 40. He's been fishing since his childhood. His father taught him to go out to sea. At first Mazin didn't want to be on camera, and there was an unexpected reason for it:"Just look at my beard! We've forgotten how to take care of ourselves properly. I cannot provide for my family. When do I find time to shave?"Mazin waved at his five boxes in disappointment. "We can't really catch much this close to the shore! See, I wasn't the only one catching these fish," he pointed at four people untangling their nets inside the boat. "These are my brothers, and they also have to feed their families. We also have parents who are in need as well. On top of that, we have to pay 500 shekels for fuel."There's an opinion that Palestinians are so poor because they are lazy and don't like working."We put to sea at three o' clock in the morning and now it's already two in the afternoon. We've been fishing for eleven hours but look how small our catch is. We also need to sell these fish," the fishermen said.
The fish market is nearby. It's hard to mix it up with anything because of the typical smell. The market building is big. It's so big that all the fishermen in Gaza are unlikely to fill it in with their daily catches. "Ninety-seven per cent of all fish in Gaza come from markets in Egypt rather than from our nets. How many fish can we catch near the shore?" Mazin sighed. His fish are certainly better and fresher but the catch is too small for him to live off. Just like his fellow-fishermen, Mazin sells his fish wholesale at wholesale prices.It's good if fishermen return home from their night duty. Indeed, they should keep their eyes open. Should they lose their vigilance slightly, their boats can be attacked and then they will be arrested together with their boats and fish.Mazin abu Riala says the Israeli patrol has detained him three times. First, they arrested and threatened him. Then they took him to Ashdot where they threw him in prison for 11 days. A court sentenced him and his cousin to fines worth 20,000 shekels. "We sailed the three permitted miles away from the shore. We muffled our engine and started fishing. The wind carried us off course only slightly but that was enough for patrol officers to detain us. The other fishing boats sailed one mile farther into the sea but they let them go. When I asked the officer why we had been arrested, he said, 'Can you as fisherman catch all the fish in the sea? We cannot catch everybody either.'"
Fishing restrictions in the autonomy are becoming more and more rigid every year. This is one of the reasons why the Free Gaza movement is stepping up efforts to break Gaza's sea blockade. At least, this is how the movement's organizers are formulating their task. Fish and other sea creatures are considered delicacies in Gaza. There were no other visitors in the fish restaurant where I dined at the invitation of a group of UN doctors. In fact, it's only foreigners who can afford this luxury. I didn't see meat a single time in eight days. Most Palestinians eat meat only at holidays. Affluent and well-off people can afford to have chicken regularly.The daily menu of most Gaza residents consists of rice and bread. They eat them and feel very happy if they manage to find any job. Five thousand local workshops were bombed and destroyed during the 2008-2009 military campaign but it's impossible to rebuild and relaunch them under the conditions of the blockade.This is why all fishermen in Gaza without exception put to sea every night. At least they have a job, although it can be dangerous.Nadezhda Kevorkova, RT