Clashes explode at West Bank outpost over farm land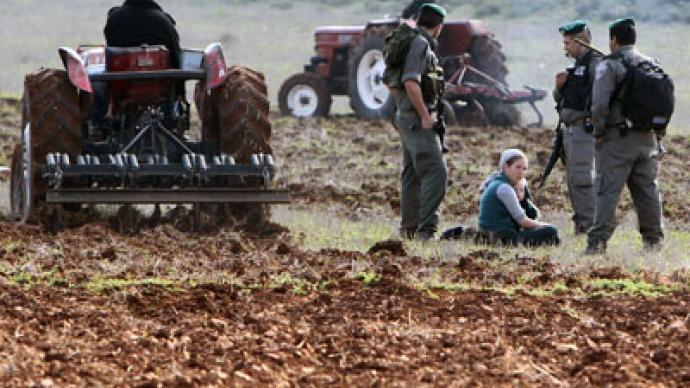 Clashes over disputed farm land in the West Bank are erupting for a second day in a row. Violence renewed after security forces forcefully removed Israeli settlers occupying the land, reportedly using tear gas and batons against women and children.
The hostility surrounds an outpost of Esh Kodesh settlers in the West Bank and Palestinians from the nearby village. Settlers and villagers attempting to plough a field clashed on Tuesday, both setting tires and fields on fire and hurling stones at each other.The IDF forces had to intervene in the dispute. A day earlier, two officers were injured and four Israelis were detained during clashes over the same issue.Recently the country's High Court of Justice directed that the Palestinians can plough the land near the outpost. The outpost residents however claim the land is theirs, as they have been cultivating it for over a decade, according to the Jerusalem Post.Witnesses from Esh Kodesh said that women and children from the outpost have occupied the field after the army notified them that Palestinians would arrive to work the land on Tuesday. To quell the crowd, the border police allegedly used tear gas and stun grenades on women and children, this has been vehemently denied by the authorities.It was also reported that at the time of the clash, Palestinians stood on a hill throwing rocks and singing about attacking Tel Aviv.Arab-Israeli tensions are intensifying since Palestine was granted a non-member observer state status at the UN, prompting Israel to press forward with its plans to build new settlements in the occupied West Bank.Despite a chorus of international condemnation and Palestinian threats to go to the International Criminal Court, Israeli Prime Minister Benjamin Netanyahu has vowed to continue settlement activity.
You can share this story on social media: