Prisoner of conscience: Israeli teen jailed for 14 days, adding to over 100 days spent for refusal to join IDF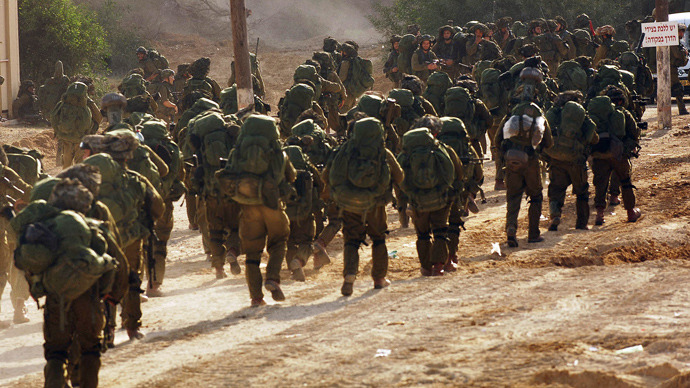 An Israeli teenager has been sentenced to 14 days in jail, his eighth term in the past six months. He's served more than 100 days for refusing to serve in the IDF and "participate in a cynical game," referring to the Israeli occupation of Palestine.
On Tuesday, conscientious objector Nathan Blanc came to the IDF Recruitment Bureau for the eighth time since November. There, at a military base near Tel Aviv, as with the previous seven times, he informed the army that he refuses to undertake the duty every Israeli teenager is required to perform.

In accordance with Israeli law, following his refusal to enlist, Blanc was arrested. The sentence requires between 10 and 20 days in Military Prison Number 6. 
Blanc belongs to a tiny minority of those who refuse to serve on grounds of principle. Out of the 300-400 prisoners housed in the prison, he has been the only conscientious objector since November.

So far, in total he has spent 116 days in jail, of which 11 were taken off for good behavior, Haaretz reports.

Blanc first declared his refusal in November 2012.

Military service in Israel is required upon graduation from high school, and lasts three years for boys and two for girls. It has become synonymous with carrying out one's duties as an Israeli citizen, refusal is not an option.
"It was a very hard decision, it took me a long time to get to it," the Guardian quoted Nathan.

The 19-year old says he seriously considered refusal to serve during Operation Cast Lead in 2009, which took the lives of around 1,400 Palestinians. He now blames the Israeli government for "not being interested in finding a solution to the existing situation [conflict at the West Bank]" and says he has "a moral duty to refuse to participate in this cynical game." Blanc has been offered an alternative service.
In February the IDF "unsuitability committee," recommended Nathan fulfil his obligation by serving in a civilian hospital. However, three days later the committee rejected his request to avoid military conscription, Haaretz says.
Unlike many others, claiming a medical condition to avoid military service is not an option for Blanc.
"I didn't want to lie. This is a point of principle," he told the Guardian.
He also refuses to defame himself as a pacifist and evade IDF on the grounds of pacifism.
"The army has a narrow definition of pacifism – someone who would never apply force in any circumstances," he explained to the newspaper.
"The [IDF's] conscience committee asks tough questions, and I would not be able to say never. I think force should be used rarely, but it can't be completely ruled out." Blanc has come up with his own alternative – participating in the national service instead of in the compulsory army. However, the military has denied him the option.
On March 25, Amnesty International called on the Israeli authorities to accept Blanc's beliefs and stop jailing him.
The NGO suggested Israel "establish a fully independent and impartial body to assess claims of conscientious objection in a fair and transparent manner."

You can share this story on social media: