Israel blocks last Gaza flotilla vessel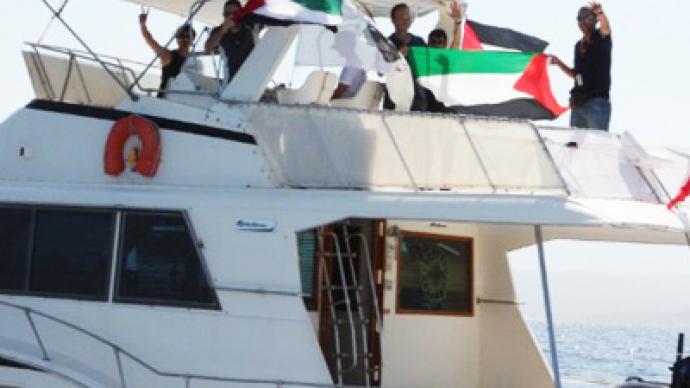 Three Israeli Navy combat ships have surrounded the only vessel of the Freedom Flotilla trying to break the naval blockade of Gaza. Other ships from the humanitarian mission were detained earlier in Greece.
The French yacht Dignity al-Karama with sixteen activists, crew members and journalists onboard was stopped en route to the Gaza Strip. The ship had intended to reach its destination by Tuesday afternoon.Israel demanded that the ship turn and sail to Israel's Ashdod port or to Egypt, a military spokesman said. According to sources on the boat, the military say marines will raid the ship if it attempts to proceed.It is not known whether the crew has acceded to the demand."What Israel did is an occupying power in preventing a ship from reaching the shores of Gaza is legal. Israel can decide that people and goods will not enter or leave Gaza via the sea as an occupying power. But exercising that authority creates on Israel an obligation to allow civilians and civilian goods to enter and leave Gaza through other means. And because Israel is not allowing that at sufficient levels the closure policy, which the activists are protesting, is illegal," says Sari Bashi from the Gisha center to protect the Palestinian movement.
Israel argues that the activists' only aim was to provoke a confrontation, but Palestinian activist Amjed Al-Shawa says the blame is on the Israeli side."These peace activists came in order to show that 1.6 million Palestinians are living in serious conditions in Gaza," he said. "They are carrying some hope, they are trying to break the isolation. So this is not a provocation. Provocation is what Israel is doing."
Itamar Shapiro, Israeli human rights activist and Gaza flotilla supporter, gave RT his assessment of the situation."The flotilla is taken by most of the people as another attack from outside. I think, it's confusing to the Israeli society, because this time it's really unarmed and it's not Palestinians, it's European people. And therefore it's very hard to digest that, but in today's situation the Israeli are so afraid of any change in their thought, afraid of the whole world that hates us for no reason in their eyes," he said.In May 2010, a similar attempt to break the blockade by several ships was stopped by an Israeli raid, which ended in the deaths of nine Turkish activists. Israel has been resisting the second attempt this year, calling it a provocation and an attempt to smuggle arms into Gaza.The Gaza Strip has been under a blockade by Israel since 2006, when the Hamas faction took power of the Palestinian Authority. Israel considers Hamas a terrorist organization and has imposed sanctions, supposedly in order to limit the number of rocket attacks on its territory.Human rights activists say the blockade greatly harm civilians living in Gaza, since they are not able to import many necessary things, including medicines, and are prevented from fishing, which contributes to a food shortage.