Israel and Gaza militants reach ceasefire after four days of attacks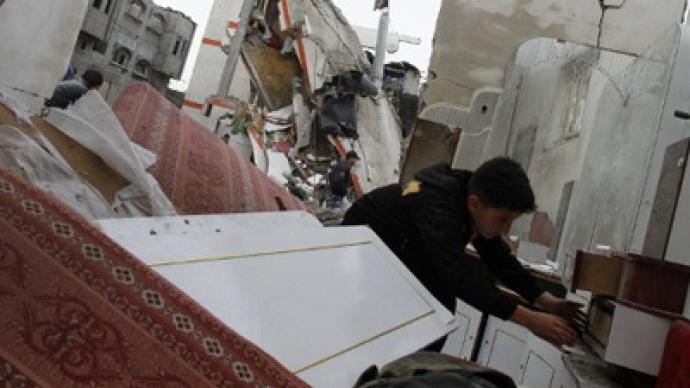 Israel and groups of militants in the Gaza Strip have agreed to an Egypt-mediated truce, Reuters reports, citing a senior Egyptian security official. It will put an end to four days of border violence between the sides.
The Egyptian official stated that Israel and the Gaza factions "agreed to end the current operations" according to the deal, which was expected to come into effect at 1am local time (11pm GMT). The sides have not yet commented on the issue.
Leaders of Gaza's Hamas confirmed on Sunday that Egypt was working on an agreement aimed at ending the violence in the region.
Earlier, after the meeting at the UN headquarters in New York, UN Secretary General Ban Ki-moon urged both sides in the conflict to "show the courage and vision needed to reach a historic agreement." He also demanded that Palestinians stop launching rockets into southern Israel, adding that, at the same time, Israel should adopt "maximum restraint" regarding retaliatory actions.
After the violence between Israel and Palestine continued into its fourth day, both Israel and Palestine called on the UN to take action or at least condemn the violence.
Last week, 15 Palestinians, including two militant leaders, were killed and a dozen wounded in air strikes by the Israeli Air Force on the Gaza Strip. The attacks were launched in response to the shelling of Israeli territory from Gaza. A senior Palestinian militant Zuhair al-Qaisi, the secretary-general of the Popular Resistance Committees, was killed in the first strikes by Israeli warplanes, along with another senior member of the PRC, Mahmoud Hannani.
The PRC, which has strong ties with Hamas, is known to have carried out rocket attacks against Israel, and the Israelis say al-Qaisi was targeted because he was planning an attack.
In response to the attack that killed al-Qaisi, Palestinian militants fired approximately from 90 to 150 rockets from Gaza into southern Israel. Eight Israelis were reported to have been injured by the rockets.
During the latest unrest, 25 Palestinians were killed. Twenty were militants and the other five civilians, according to medical officials. At least 80 Palestinians, mostly civilians, were reported wounded. The recent violence paralyzed life in much of southern Israel, with schools closed and hundreds of thousands having to stay indoors.
You can share this story on social media: