Israeli law on West Bank boycotts undemocratic – activist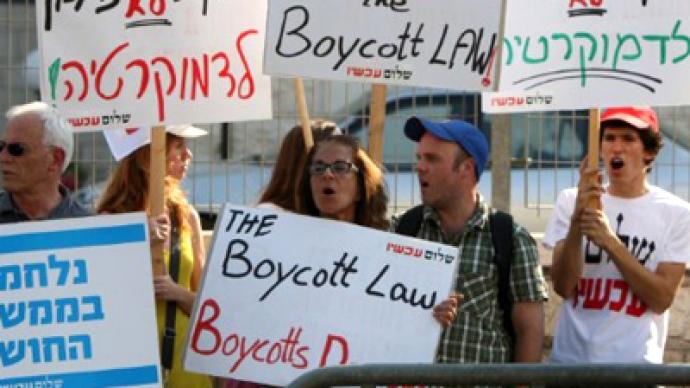 Israeli Prime Minister Benjamin Netanyahu has defended the controversial law on boycotts against Israeli settlements on the West Bank. Activists are opposing the bill, calling it a violation of free speech.
During a stormy session in parliament on Wednesday, Netanyahu said that without his backing the law would not have been adopted. His speech was constantly interrupted by lawmakers critical of the new legislation. Several members of parliament even had to be removed from the session, Associated Press reports.   The law, which was adopted by the Knesset on Monday, allows settlers and settlement-related businesses to sue those who organize boycotts of their products. The courts will have to decide whether a boycott has caused any financial harm and will estimate the amount of damages due. Backers of the law claim that it is needed to protect Israeli settlers on the West Bank.Israeli peace groups have called on the country's Supreme Court to overturn the law. According to activists from the Gush Shalom group, the new law is anti-democratic. Group spokesperson Adam Keller told RT that the law is a serious blow to freedom of speech in Israel."We regard the settlements in occupied territories as completely dangerous to the future of Israel. They block any chance of peace between us and the Palestinians," he said. "We have been calling upon the Israeli public since 1997 not to buy anything in supermarkets which comes from these settlements because buying these products is helping settlers, making them stronger." "That is a completely legitimate democratic action – citizens expressing what they feel, what they believe in," Keller added. "We have now been stopped from doing it, threatened with very high fines, with enormous sums which we might have to pay if we continue with our legitimate democratic activity."­The only reason to sanction boycott petition in Israel is to back up Israeli unilateral decision to colonize 1967-occupied territories and construct settlements there while the international community has always been questioning legitimacy of such actions, believes Hillel Ben Sasson, a spokesperson for the Sheikh Jarra Solidarity Movement, Jerusalem."I think it is clear for the most of the international community and also for the majority in Israel that current regime in Israel is not really interested in promoting [a] viable peace accord with the Palestinians," Ben Sasson said, explaining that in 63 years of existence Israel has never managed to adopt a constitution, thus making country's Supreme Court a 'babysitter' of the country's parliament, capable of adopting any laws it wishes to.