Tent camp or deportation: Choice for African migrants in Israel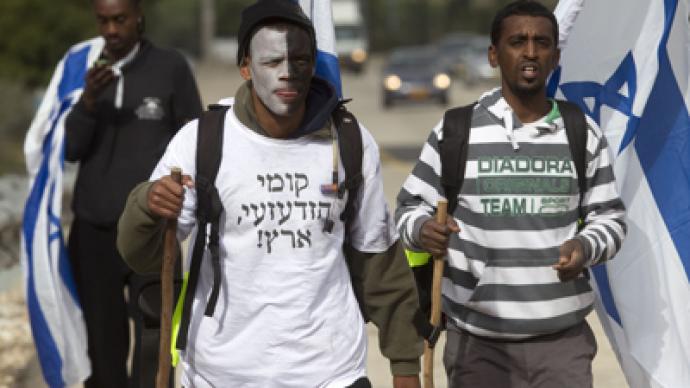 The Israeli Defense Ministry has announced plans to erect up to 25,000 tents at five detention centers to prevent African migrants from entering cities.
The African migrants coming into the country will stay in these centers for an extended period. The plan was presented to Prime Minister Benjamin Netanyahu after his bureau requested a quick and efficient response to what the government perceives as a problem. The Defense Ministry's announcement also came several hours after Jerusalem's District Court ruled that Israel could deport South Sudanese migrants back to their homeland, despite objections from NGOs that the migrants' lives would be in jeopardy due to the ongoing conflict between South Sudan and Sudan. Interior Minister Eli Yishai welcomed the decision, and expressed the need for similar action in the future that would allow Israel to deport migrants from other countries, such as Eritrea and Sudan. Some 1,000 South Sudanese migrants have arrived to Israel; their run being fueled by the conflict between South Sudan and its northern neighbor. Their former route to Europe lay through Libya, which has now been cut off because of its own post-Gaddafi civil strife. "I really don't know what to do," Khaled, a South Sudanese migrant residing in Israel since 2007, was quoted by Haaretz as saying in reaction to the court ruling. "It's sending people and families to a dangerous place. I'm afraid to go back there with the kids, will they have a future in such a place?"NGOs that submitted an appeal to the initial ruling that approved the deportation of South Sudanese migrants also expressed their regret over the latest ruling, saying they feared for the wellbeing of the deportees, who are due to be sent back "to a dangerous place."Israel has seen an influx of migrants and asylum seekers from different African countries in recent years. Many right-wing politicians have called for the government to take decisive action to put an end to the inflow of foreigners. Last month, a demonstration organized by a group of politicians turned violent, with some protesters going on to pillage an African-owned shop and attack bypassing cabs driven by Africans.
You can share this story on social media: