Islamic hardliners in Mali increase threats as France pushes for intervention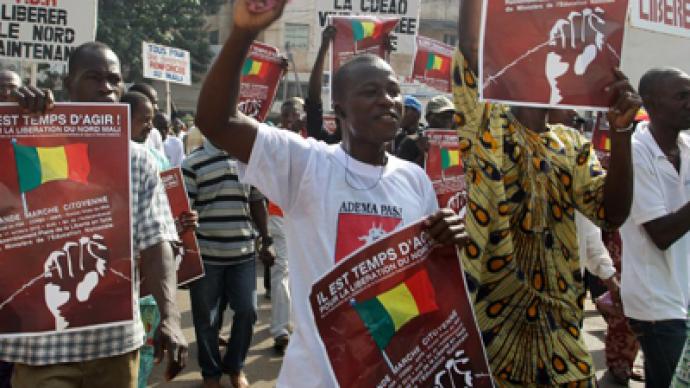 Islamists in northern Mali threaten to "open the doors of hell" to French citizens in the area if France keeps pushing for military intervention. A quarter of a million refugees have fled Mali's north since Sharia law was implemented there in March.
The UN Security Council called Friday for an intervention plan to be drawn up within 45 days after passing a French resolution to revive attempts to end the crisis. The renewed threat against French expatriates and hostages came ahead of a summit of Francophone nations in Congo, where French President Francois Hollande is expected to urge the formation of an African-led force to rout the Islamists. Oumar Ould Hamaha, a spokesman for Islamists group MUJWA told Reuters, "If he continues to throw oil on the fire, we will send him pictures of dead French hostages in coming days." This was an apparent reference to four French nationals seized in neighboring Niger in 2010. All but four have since been released. "He will not be able to count the bodies of French expatriates across West Africa and elsewhere," he continued. MUJWA is one of the Islamist groups that have controlled the northern two-thirds of Mali since the country's military took power in a March coup.
The Saharan branch of al-Qaeda was quick to move into the increasingly lawless area, seizing control of the Tuareg-majority north after the coup, effectively seceding from the rest of Mali.Hamaha added that ransom payments from France and other Western nations are his group's primary source of funding. "The top country who finances the jihadis is France – I wonder what the international community would say if we took the French president hostage," he boasted.  Fundamentalist Islamic law has been implemented across northern Mali, with suspected thieves dismembered, single mothers persecuted and suspected criminals flogged.
Over the last six months, a quarter of a million people have fled Mali for refugee camps in neighboring countries.  A journalist in neighboring Senegal told Euronews that he is worried about the unrest spreading to nearby capitals. "Mali has Pakistani, Afghan and Algerian forces involved in the crisis, which is becoming international. The international community should intervene in the north in its own interest. The Islamists have imposed Sharia law, and that could seriously affect the African continent – and then the whole world." Journalist Gerald Horne told RT that "what is happening in Mali is a humanitarian crisis and a disaster" and "a direct outgrowth of the North Atlantic countries' intervention in Libya in 2011." "The North Atlantic nations turned the tables on Gaddaffi, aligned with his former antagonists and overthrew him – and now the inevitable has happened," he continued.