Dozens killed as suicide bomber, gunmen attack police HQ in northern Iraq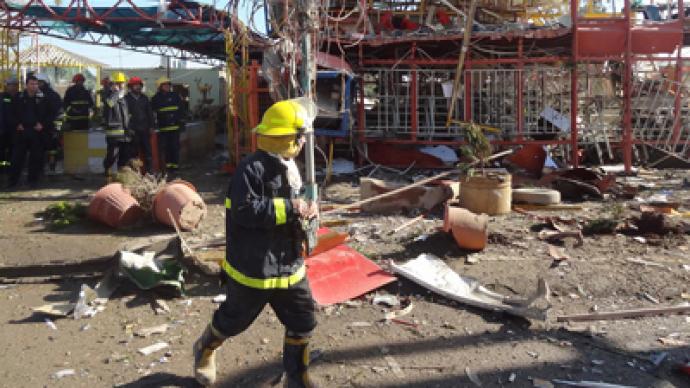 A suicide bomber and a group of gunmen have besieged a police station in northern Iraq, killing at least 33 people. The ensuing gun battle between militants and officers wounded a further 70 people.
The suicide attacker detonated a car bomb, and a group of gunmen then stormed a police headquarters in the city of Kirkuk. The assailants were reportedly disguised as police officers.
Brigadier General Natah Mohammed Sabr told AFP the militants had been unsuccessful in their attempt to seize control of the compound.
"A suicide bomber driving a car packed with explosives hit the entrance of the headquarters and after the blast gunmen in explosive vests attacked with AK47s and grenades, but the guards killed them," a police official said.
According to Sabr, gunmen equipped with grenades and suicide vests mounted their attack during rush hour, using a window of opportunity following the suicide blast to gain access to the police station.
"Two gunmen wearing explosive vests tried to storm into the Kirkuk police directorate, but guards at the main guard engaged them and killed them," a police source inside the compound said to Reuters.
The northern city of Kirkuk lies at the heart of a dispute between the centralized Baghdad government and the autonomous Kurds in the region over oil reserves.
The attack comes after a period of relative calm in the country, which is currently dealing with significant political upheaval. Sectarian tensions are simmering in Iraq amid weeks of protests calling for Shiite Prime Minister Nuri al Maliki to resign.
Iraq's Sunni Muslims claim they are being marginalized by the Shiite-majority government.
Last week five people were killed in the Sunni stronghold of Falluja when government troops opened fire on a mass rally calling for the resignation of al-Maliki. Elsewhere in Iraq there were protests over a reform to anti-terror laws that activists claim persecute the Sunni minority.
You can share this story on social media: