Iraqi policeman throws himself on suicide bomber, dies saving pilgrims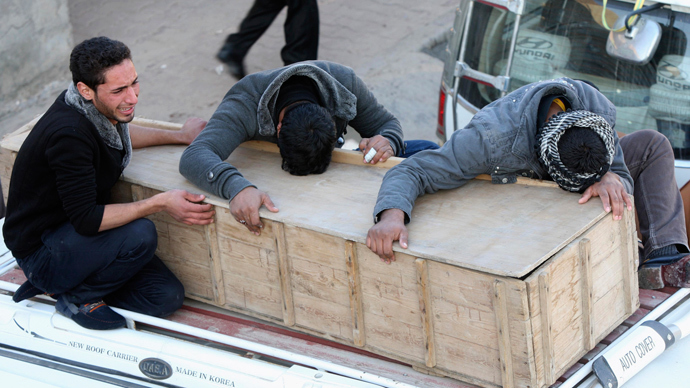 An Iraqi policeman threw himself on a suicide bomber on Wednesday, just as the man made moves to detonate his device. The 34 year old policeman was attempting to shield dozens of Shiite pilgrims from the deadly blast, which took five lives.
Follow RT's timeline of Iraq violence in 2013
Hundreds of thousands of Shiite pilgrims are journeying to Karbala, south west of Baghdad, to commemorate Imam Hussein, the Prophet Mohammed's grandson. The 40-day observance has become a common target for acts of terror.

One particular group of pilgrims was making its way from Khales, north east of the capital, when the suicide bomber targeted them.

Anticipating a devastating tragedy, 34-year-old policeman, Ayyub Khalaf, threw himself on to the assailant, catching him in a tight embrace, and shielding the pilgrims from the full impact of the blast.

Khalaf was one of the five who died as the explosion ripped through the bystanders.

"Ayyub was martyred while defending pilgrims, and his name will be an eternal symbol because he saved the lives of dozens of innocents," Khalaf's friend, Saad Naim told AFP, adding that Khalaf himself was married with two children.

"We will take revenge on the Al-Qaeda terrorist organization," he stated, though Al-Qaeda, or any other group, has not claimed responsibility for the Wednesday attack.
Over 30 pilgrims dead as violence spills over into Thursday
Casualties from Wednesday's assault were fewer given the self-sacrifice. On Thursday, however, at least 36 pilgrims were killed in three separate suicide bomb attacks.

One suicide bomber targeted a funeral tent, killing 16 and wounding a further 31 in southern Baghdad's mainly Sunni neighborhood of Doura. Nine others were killed near Latifiya, due south of Doura, after a similar attack on a cluster of Shiite pilgrims traveling from the north. Eleven were killed inside Latifiya itself, according to Reuters.

Over 8,000 people have died in Iraq this year, in project Iraq Body Count's estimates – making it the bloodiest year for the country since 2008. In November alone, 948 people were killed as a result of violence in the country.

The government places most blame with groups linked to the Iraqi wing of Al-Qaeda. The civil war in neighboring Syria may have also contributed to the violence, as Sunni rebels are acting against a government allied to Shiite Iran.
You can share this story on social media: