Deadly Sunday: Over 50 killed in bombings across Iraq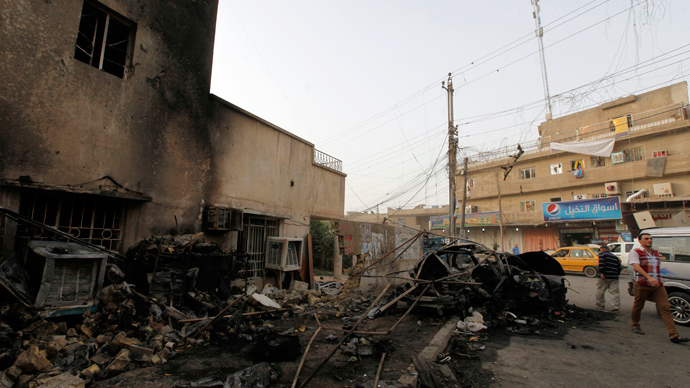 A spate of suicide bomb attacks in and around the Iraqi capital of Baghdad and has claimed the lives of over 50 people and left dozens injured, local police said.
In one of the Sunday attacks, a suicide bomber detonated explosives inside a cafe in Baghdad's Shiite-majority area of Al-Amil, killing at least 38 people, according to Reuters. At least 39 others sustained injuries.
Officials said a suicide bomber rammed his explosive-laden car right into the busy cafe. The area is said to be a favorite hang-out in the neighborhood for youngsters, who filled the area at the time of the blast.
"The cafe was full of people watching a soccer game and others smoking shisha (water pipe) when a minibus drove over the pavement and exploded right at the entrance to the cafe," Ali Mahdi, a policeman whose patrol was stationed nearby, said.
"At first people in the cafe thought it was a drunk driver, until the blast tore them apart, covering the ground with chunks of human flesh and severed limbs."
Earlier in the day, 12 people were killed and 27 wounded in attacks which appeared to be carried out with coordinated strikes, suicide bombers, and cars bombs in Iraq's western province of Anbar.
Multiple suicide attacks hit the town of Rawa, some 260 km (160 miles) northwest of Baghdad, where police said the city council, a nearby police station and a security checkpoint were attacked.
At least five policemen were killed and 13 others wounded as a suicide bomber blew himself up outside the entrance of a police station, Xinhua news agency reported, citing a source in the provincial police.
Suicide bombers wearing police uniforms targeted the city council while a meeting was going on there, killing at least five officials, including the deputy chief, and wounding 10 others.
The third suicide bomber detonated his explosive vest at a nearby joint police and army checkpoint, killing two policemen and wounding four others including two soldiers.
Reuters, at the same time, reports that the mayor's house was also attacked and the mayor was seriously wounded. Three others were killed, according to the report.
Other media reports suggest that up to 28 people were killed in Rawa on Sunday. However, no details have been given.
Following the attacks all entrances of the city were blocked and an indefinite curfew imposed.
No one claimed responsibility for the blasts, though Sunni Muslim insurgents are known to have been targeting members of the Shiite-led government.
Earlier on Sunday a suicide bomber also blew himself up near the house of a senior policeman, Nasser Dawood, on the southern outskirts of Samarra province, 100 km north of Baghdad.
At least six people, all relatives of the police officer, were killed.
According Reuters, which cites police sources, the bomber drove up to a group of people who had gathered there because earlier a smaller explosion had taken place at the senior officer's house.
Iraq has recently seen the deadliest outburst of violence to take place in the country since 2008. Thursday, October 17, has become the deadliest day in Iraq in the past few weeks with over 50 killed in one day. Prior to that, a suicide bombing left at least 75 people dead. As for today, some conflicting reports say the total death toll has reached 35 people.
Over 400 people have been killed in October so far, and over 5,000 have died since the beginning of the year, according to AFP figures.
You can share this story on social media: