Blackwater guards again charged by US over Iraqi civilian deaths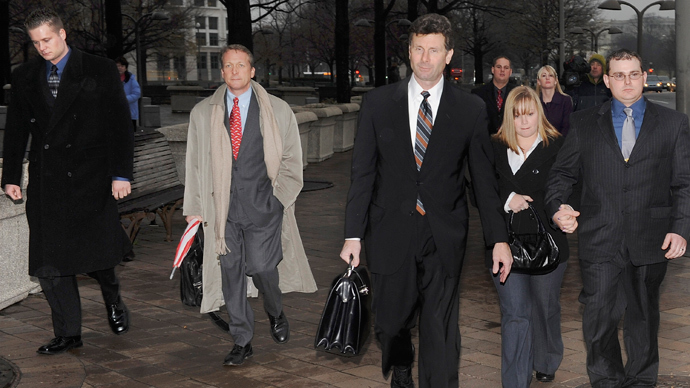 Four former guards of the notorious private security firm Blackwater face new manslaughter charges from the US DoJ over a 2007 shooting in Baghdad. The original charges were dropped in 2009, a month before a scheduled trial.
The case was reinstated in 2011, with prosecutors taking a long time to review what charges they could prove in court. The new indictment returned by a grand jury in Washington charges 33 counts, including voluntary manslaughter, attempt to commit manslaughter and using a firearm in a crime of violence.
The guards, Paul Slough, 34, Nicholas Slatten, 29, Evan Liberty, 31, and Dustin Heard, 32, had pleaded not guilty to the initial charges brought against them back in 2008. The initial charges had been thrown out after a US District Court judge ruled that prosecutors relied on statements that the guards gave under threat of losing their jobs.
Prosecutors said the suspects used a sniper rifle, machine guns and grenades during a September 2007 shooting in Baghdad's Nisur Square. The skirmish left 14 unarmed civilians dead and at least 18 others injured.
The Blackwater guards said they had been attacked by militants and had to use force to protect a US convoy in their charge. They claimed any civilian deaths were collateral damage.
The incident strained US relations with Iraq and raised concerns over the increasing use of private military contractors by the American government.
"The vast majority of the US contractors who served in Iraq did so with honor and integrity, but, as alleged today, these defendants abused their power through a relentless attack on unarmed civilians that recklessly exceeded any possible justification," US Attorney Ron Machen, the chief prosecutor in Washington, said in a statement.
Prosecutors last month dropped their case against a fifth guard, Donald Ball, citing "prosecutorial discretion" based on their "assessment of the admissible evidence against him."
The defense team voiced its disappointment with the development.
"We are disappointed that the Department of Justice has chosen to proceed with this prosecution, which we strongly believe has no merit whatsoever," attorney Dave Schertler said in a statement.
A hearing in the case is scheduled for October 25. No trial date has been set.
Blackwater underwent a series of transformations and changes of management following a spate of scandals over unwarranted use of force in Iraq and Afghanistan and trafficking of arms. It is now named Academi.
You can share this story on social media: