At least 40 killed, dozens wounded in Iraq funeral bombing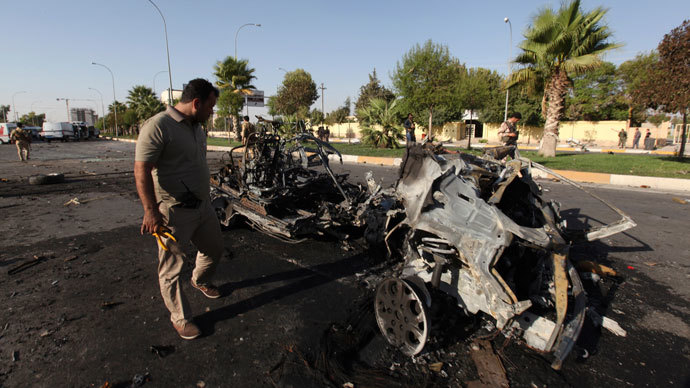 At least 40 people were killed at a Shiite funeral in a southern Iraqi town on Sunday after a suicide bomber blast brought down the ceiling of a mosque. Dozens more were wounded in that incident and in other attacks in Iraq amid the unceasing violence.
Around 50 people survived the funeral blast in Mussayab, 60km (40 miles) south of the capital Baghdad, with various injuries, Reuters reported. However, local police said more bodies remain trapped beneath the rubble in the bombed-out mosque.

"Until now, we are trying to retrieve bodies from under the debris. Most of the bodies were torn to pieces. Legs and hands were scattered on ground," a policeman at the scene told the news agency.

The people at the funeral were said to be mourning the death of a man earlier killed by militants.

No group has immediately claimed responsibility for the bombing, which is the latest in a string of attacks targeting places of worship and funerals of both Shia and Sunni Muslims in Iraq. One such recent chain of bombings killed at least 96 people in the Baghdad suburb of Sadr City.

Meanwhile, up to six people were killed and more than 60 wounded in a series of explosions in the city of Arbil, the capital of Iraq's autonomous region of Kurdistan, according to the Kurdish region's health minister Raykot Hama Rashid.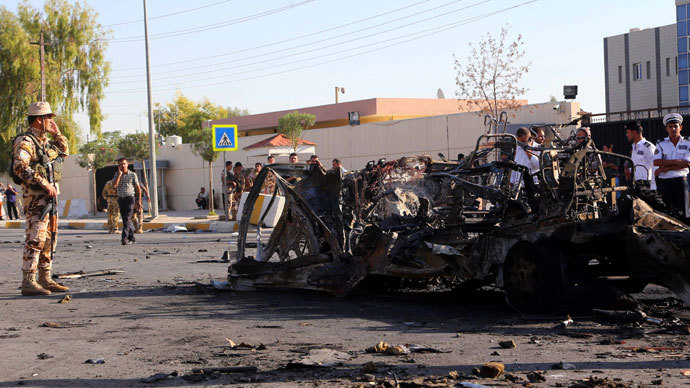 A statement from the Kurdish security service Asayesh said a suicide bomber detonated explosives at the entrance to their Arbil headquarters. Asayesh forces then clashed with four more bombers, killing them, but the fight was followed by a blast of an explosives-rigged ambulance triggered by another insurgent.

The media has described the incident as rare, as the Sunday blasts were the first to hit Arbil since May 2007.

But Iraqi Prime Minister Nouri Al Maliki's spokesman has linked the deadly attack to the raging conflict in neighboring Syria, where Kurdish forces have been fighting with jihadist groups.

"Syria has affected all of us," the spokesman told AFP, adding that the attack may be "one of the offshoots of the Syrian crisis".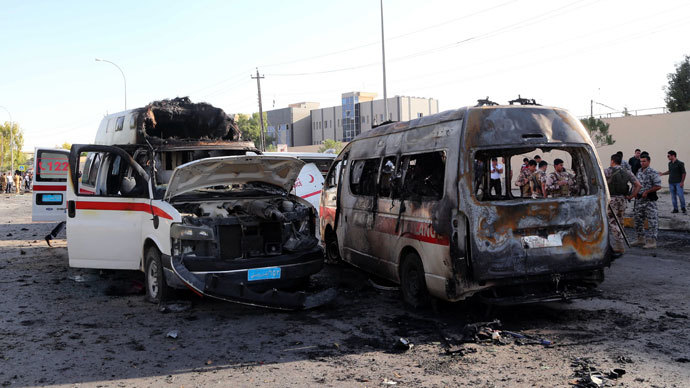 Both Iraq's Sunnis and Shias have been crossing into Syria to fight on opposite sides of the conflict.

This includes the terrorist groups, with al-Qaeda's Iraqi and Syrian branches merging earlier this year to form the Islamic State of Iraq and the Levant, which has claimed responsibility for attacks – suicide bombings in particular – on both sides of the border.

More than 6,000 people have been killed in violent attacks in Iraq since the start of the year, according to monitoring group Iraq Body Count.