US gave Saddam blessing to use toxins against Iranians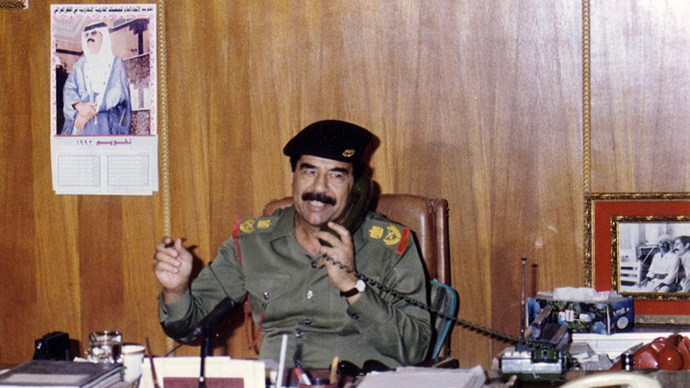 As Washington ponders over whether to hammer Damascus over unidentified use of toxic agents in Syria, declassified CIA documents reveal that 25 years ago the US actually indulged ruthless Saddam Hussein to use chemical warfare gases in war with Iran.
The recently declassified documents at the National Archives in College Park, Maryland, suggest that the US was closely following the use of chemical weapons by the Saddam Hussein's regime both against the enemy in the Iran-Iraq War (1980-1988) and against Iraq's Kurdish population, reports Foreign Policy magazine.
Despite the fact that the US establishment regarded Saddam Hussein as 'anathema' and his officials as 'thugs', the policies of President Ronald Reagan's administration through 1980s was to ensure that Iraq would win the war with Iran, the FP stated.
Former CIA official retired Air Force Colonel Rick Francona has said exclusively to Foreign Policy that starting from 1983 the US had no doubts that Hussein's Iraq was using prohibited chemical weapons (mustard gas) against its adversary, while Iran lacked solid proof and could not bring the case to the UN.
Experienced Arabic linguist Rick Francona, who worked for both the National Security Agency (NSA) and the Defense Intelligence Agency (DIA), shared that the first time he had proof of Iraq using toxins against Iranians was in 1984, while he was serving as the US Air attaché in Amman, Jordan. He had solid proof that Iraqis had used Tabun nerve agent (GA) against Iranian troops advancing in southern Iraq.
It has also been revealed that Saddam Hussein's military industrial complex could not produce shells with toxic chemical substances itself and was heavily dependent on foreign equipment, with Italy been mentioned as one of the sources for the special equipment.
But Reagan's administration was willing Baghdad to win the war, so it turned a blind eye on Iraq using lethal nerve agents against Iran, since that could turn the tide of war into a right direction, Foreign Policy reports.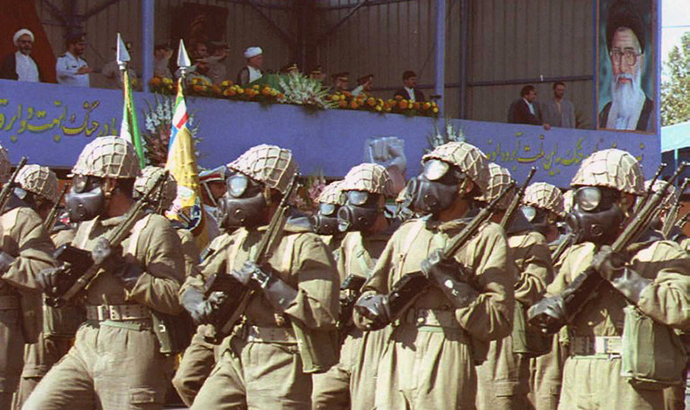 The 1925 Geneva Protocol banned chemical warfare, while the Chemical Weapons Convention banning production and use of chemical arms was introduced in 1997. Iraq never bothered to sign the document, while the US did so in 1975, and by 1980s the US had international obligations to prevent the use of chemical weapons.
During the war with its neighbor, Iran was in a state of heavy international isolation that followed the 1979 Islamic Revolution, and Iran's military was lagging behind if compared to Iraqi Army.
Still, with the population fanatically supporting the Islamic leadership, Iran used inhumane tactics of 'human wave' attacks, turning its soldiers into expendables and thus nullifying Iraq's military superiority.
In 1987, US satellite intelligence suggested that Iran was concentrating troops for a powerful offensive on Iraq's southern Fao Peninsula in the direction of the key city of Basrah. The US believed that in spring of 1988 the Iranians might undertake a decisive attack, capitalizing on tactical mistakes by the Iraqi military which could result in Iraq's defeat.
According to Francona, after acknowledging with the intelligence data, President Ronald Reagan wrote a margin for the US Secretary of Defense Frank C. Carlucci: "An Iranian victory is unacceptable."
Thus, the Americans opted to share intelligence information with Baghdad, authorizing the DIA to give detailed data on exact locations of all Iranian combat units, Air Force movements, air defense systems and key logistics facilities.
Rick Francona described the satellite imagery and electronic intelligence provided as "targeting packages" enabling the Iraqi Air Force to destroy Iranian targets.
In 1988, Iraq conducted four highly successful chemical attacks on Iranian troops with sarin nerve agent, killing hundreds, if not thousands on the spot. The attacks preluded heavy artillery assaults and were disguised, being accompanied with use of smoke shells.
Official Iranian statistics of the dead in these attacks is still unavailable.
At the time Francona was serving as the US military attaché in Baghdad and he witnessed the aftermath of the attacks himself. He visited the Fao Peninsula shortly after it had been captured by the Iraqis. On the battlefield he saw hundreds of spent syringes with atropine, which Iraqi troops had been using as antidote to sarin's lethal effects. Francona took several of these injectors to Baghdad as proof of chemical weapons use.
Francona told Foreign Policy that Washington was "very pleased" with the Iranians being stricken preemptively to prevent them from launching their offensive.
Also, in March 1988, Iraq launched a nerve gas attack on separatist Kurdish village of Halabja, some 240km northeast of Baghdad, killing 5,000, while 7,000 more suffered long-lasting health problems.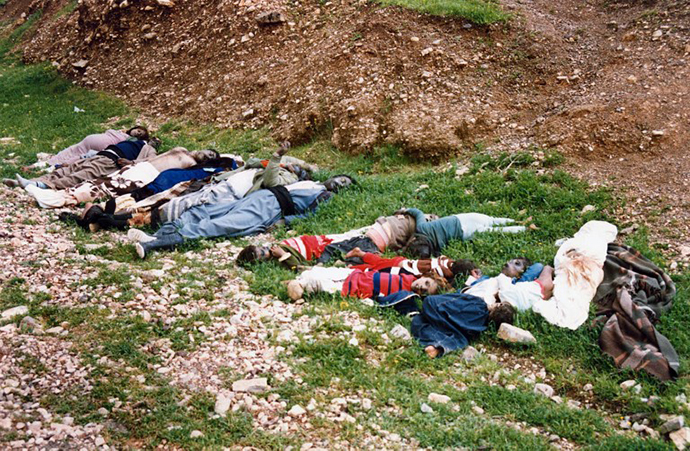 The last of the chemical attacks launched by Iraq in 1988 was dubbed the Blessed Ramadan Offensive and became the largest use of chemical weapons in modern history – probably until the recent attack launched in a suburb of the Syrian capital, Damascus, with casualty figures ranging from dozens to almost 1,300 deaths.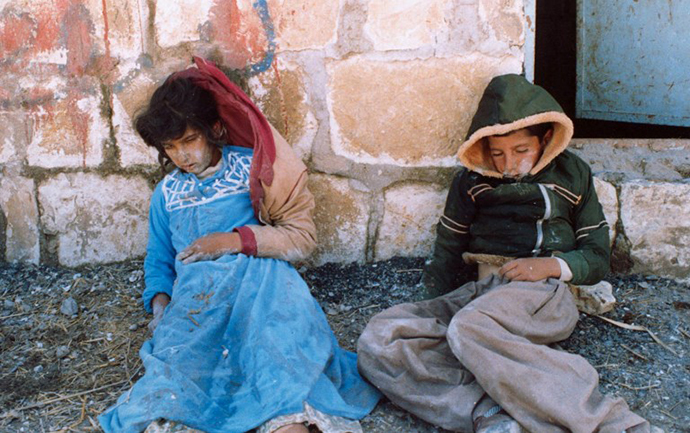 You can share this story on social media: