Double bombing in Baghdad kills at least 17, wounds 37 – reports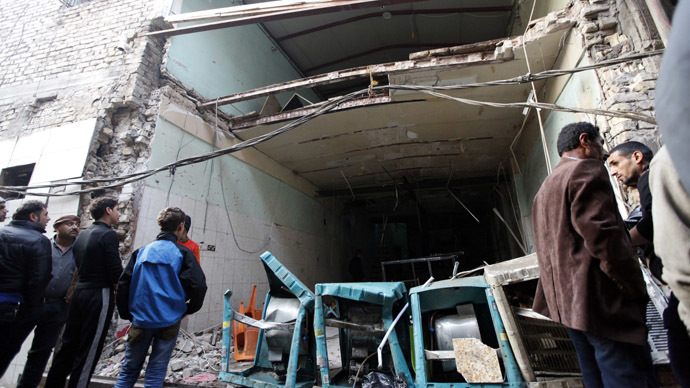 Two bombs exploded in eastern neighborhood of Baghdad on Monday killing at least 17 people and wounding 37 others, Reuters reports quoting police and medical sources.
The attack occurred outside a café in the district of Sadriya, home to mainly Shiite Muslims, and one of the few social meeting places still open in the capital.
"When the first bomb exploded, people ran to investigate. Minutes later the second bomb exploded," Abu Zuhair, a grocer, told Reuters.
It was one of three attacks in and around Baghdad, Monday.
Earlier a suicide bomber blew himself up at a police checkpoint in the northeast of the city, killing three police officers. While in the Sunni district of Doura a roadside bomb killed two fighters from the Sunni "Sahwa" militia and wounded four more.
Follow RT's timeline of Iraq violence in 2013
It comes just four days after 48 people were killed at a food market northeast of Iraq's capital. No group has yet claimed responsibility for that attack.
The recent violence a day after a series of attacks, mostly by car bombs, hit predominantly Shiite and commercial areas of Baghdad, killing more than 150 people in the past week alone.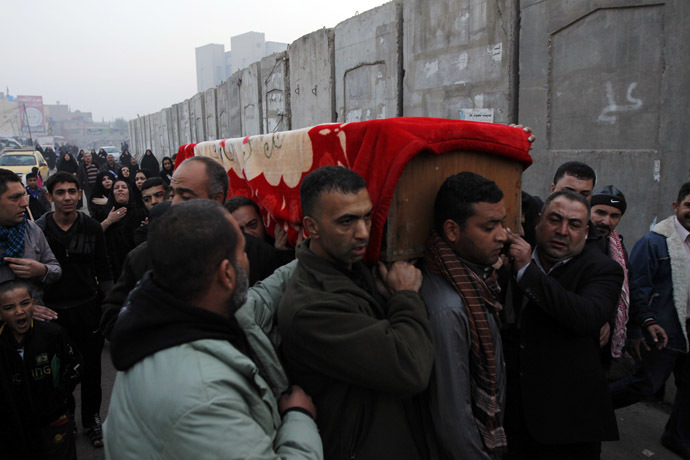 On Monday, France offered weapons, training and intelligence cooperation to help the Iraqi government combat worsening violence, AFP reported.

"We are absolutely willing to help Iraq in its fight against terrorism, in terms of equipment, training, intelligence, and care for the wounded," French Ambassador to Baghdad Denys Gauer said.
Asked if that help included the sale of weapons, Gauer said: "Yes, of course."
With over 7,000 civilian casualties recorded in the year through the beginning of November, 2013 has become the deadliest year in Iraq since 2008.
Every month hundreds of Iraqis are being killed in violence nationwide. The frequency of bomb attacks has raised fears that the country could be sliding towards sectarian bloodshed similar to in 2006-07, when tens of thousands died.
The violence comes with Iraq due to hold parliamentary elections on April 30, its first such polls in four years.
You can share this story on social media: