Deadly blasts engulf Iraq, with string of bombs killing at least 100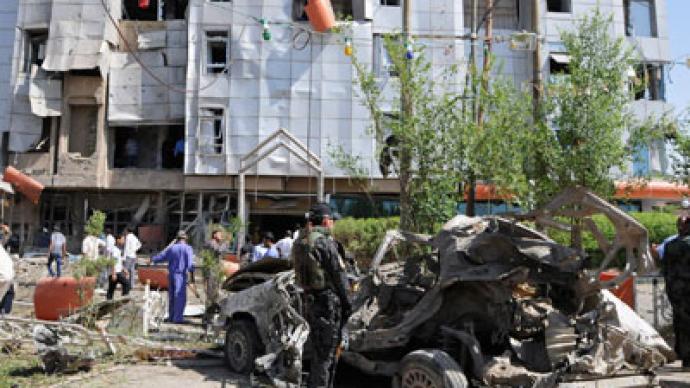 At least 100 people have been killed and over 200 wounded as separated attacks hit 11 cities across Iraq. There has been no immediate claim of responsibility for the violence.  
­The city of Amara, some 300 km (185 miles) south of Baghdad, is reported to have suffered from one of the most severe and deadliest blasts.  Two car bombs exploded outside a Shi'ite shrine and market place, killing at least 16 people and wounding around a hundred, officials said.As the local hospital accepted scores of injured, mosques in Amara used loudspeakers, usually reserved for the call to prayer, to ask for blood donations, Reuters reports. Another 11 people have been killed and seven wounded in the town of Dujail, 50 km (30 miles) north of Baghdad, where gunmen stormed a small Iraqi Army outpost early Sunday morning.  Several hours later another car bomb went off amidst a group of police recruits, local authorities reported.  The trainee officers were allegedly waiting in line to apply for jobs with the state-run Northern Oil Co. near the city of Kirkuk, 250 km north of Baghdad. Seven people died from injuries, whilst 17 others sustained serious wounds.There are reports that Kirkuk was hit by at least two other blasts. A car bomb and a bomb hidden in a motorcycle detonated outside a local police building, killing seven and wounding 40. The bloodshed stretched into the country's south, in the Shiite-dominated city of Nasiriyah, 320 kilometers (200 miles) southeast of Baghdad. One policeman died and other four were injured when an explosive went off near the French consular. The head of the diplomat mission was not there when the attack occurred.  A different blast, in the same city, claimed lives of two people and left another three were injured. Smaller attacks also hit another towns including Baghdad.  The blast in Iraq's second largest city of Basra killed three people and wounded 24. In Tuz Khormato near the city of Kirkuk, some 290 kilometers (180 miles) north of Baghdad, a car bomb outside of a market killed four and wounded 41 people, said Salahuddin provincial health director Raeed Ibrahim.Three bomb blasts also killed 15 people in Baghdad's Shiite district. Police said car bombs detonated in three western Baghdad neighborhoods on Sunday night left 15 dead and 47 wounded.
Security personnel inspect the site of a bomb attack in Kirkuk, 250 km (155 miles) north of Baghdad.(Reuters / Stringer Iraq)­
Iraqi security personnel inspect the site of a car bomb attack outside a French consular building in Nassiriya, 300 km (185 miles) south of Baghdad.(Reuters / Stringer Iraq)­
Iraqi security personnel inspect the site of a car bomb attack in Basra, 420 km (261 miles) southeast of Baghdad.(Reuters / Stringer Iraq)