Iraq suspends Al Jazeera, other networks for 'promoting violence'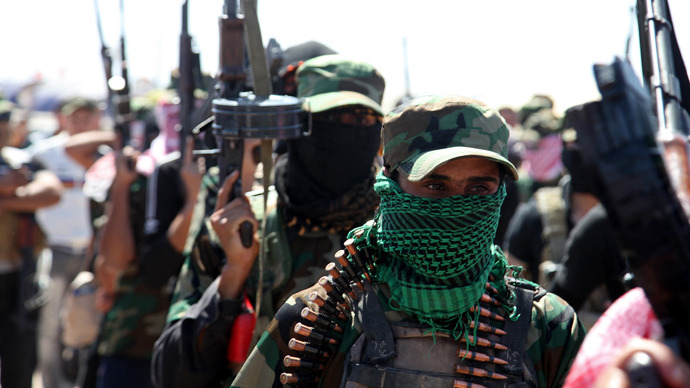 Iraq has suspended Qatar-based Al Jazeera and nine other satellite TV channels from broadcast, citing "unprofessional reporting" that generated inter-ethnic strife in the war-torn country.
The Iraqi Communication and Media Commission said in a statement on Sunday that the satellite channels had "exaggerated things, given misinformation and called for breaking the law and attacking Iraqi security forces."
The statement accused the channels of "openly advertising terrorist organizations" banned in Iraq, as well as threatening to "jeopardize the democratic process" in the country.

"We took a decision to suspend the license of some satellite channels that adopted language encouraging violence and sectarianism," Mujahid Abu al-Hail of the Communications and Media Commission told AFP. "It means stopping their work in Iraq and their activities, so they cannot cover events in Iraq or move around."

Al Jazeera and Sharqiya, a popular channel in Iraq, are among the 10 suspended channels. Al Jazeera was not formally notified of the move in advance, the Qatari channel said on their website.
"We are astonished by this development," #AlJazeera in response to suspension of broadcast operations in #Iraq | aje.me/17qq1LI

— AJELive (@AJELive) April 28, 2013
Al Jazeera responded with a statement urging the Iraqi authorities "to uphold freedom for the media to report the important stories taking place in Iraq."
"We cover all sides of the stories in Iraq, and have done for many years. The fact that so many channels have been hit all at once though suggests this is an indiscriminate decision," the statement added.

The official announcement follows clashes between Iraqi security forces and Sunni Muslim protesters that broke out on Tuesday, killing 169 people in three days and injuring nearly 300. The violence saw Sunni protesters take over an army base and torch a Shia mosque in Sulaiman Pek before army helicopters were deployed to quell the unrest.
In remarks broadcast on state TV, Prime Minister Nuri Maliki called on Iraqis "to take the initiative and not be silent about those who want to take the country back to sectarian civil war." Thousands of Sunnis have been protesting since December over what they see as an effort by the Shia-dominated parliament to keep them out of top positions in the government.  They have further decried tough anti-terrorism laws, which they argue infringe on their religious freedoms.
Authorities have been accused of carrying out regular raids in Sunni areas, detaining those who critics say have been wrongly accused of terror links or ties to the deposed Baathist regime of Saddam Hussein.
Sunday's decision is not the first time Iraqi authorities have sought to restrict the operations of foreign media outlets in the country. In June 2012, Iraq's Communications and Media Commission (CMC) placed restrictions on 39 media outlets, including the BBC and Voice of America, over alleged licensing problems, AFP reported.
The Journalism Freedoms Observatory (JFO) in Iraq claims that the CMC had recommended banning 44 news outlets.
Iraq is often at the bottom of global press freedom rankings. In 2013, Reporters Without Borders placed it 150th in media rights on its annual World Press Freedom Index, trailing Bangladesh, Zimbabwe and the Democratic Republic of the Congo.

You can share this story on social media: