Iranian president offers to facilitate Syrian peace talks
International leaders must learn to peacefully cooperate and work in the best interest of all people. They must engage in constructive discussions in order to avoid stagnant, Cold War-like scenarios, Iran's new president wrote in an article to the West.
Hassan Rouhani, who was elected in June to succeed the polarizing Mahmoud Ahmadinejad, offered Thursday to broker peaceful negotiations between the Syrian government and opposition forces after more than two years of war.  
"We must join hands to constructively work toward national dialogue, whether in Syria or Bahrain," Rouhani wrote in an editorial for The Washington Post. "We must create an atmosphere where peoples of the region can decide their own fates. As part of this, I announce my government's readiness to help facilitate dialogue between the Syrian government and the opposition." 
Rouhani has signaled to the West - the United States in particular - that he plans to be more receptive to negotiations than his predecessor was. His Thursday editorial, published less than one week before he is scheduled to speak at the United Nations, called for countries to interact with a positive goal in mind instead of focusing on frosty relations that have developed in recent decades. 
"We and our international counterparts have spent a lot of time – perhaps too much time – discussing what we don't want rather than what we do want," he wrote. "This is not unique to Iran's international relations. In a climate where much of foreign policy is a direct function of domestic politics, focusing on what one doesn't want is an easy way out of difficult conundrums for many world leaders. Expressing what one does want requires more courage."
The president told NBC Wednesday that "under no circumstances would [Iran] seek any weapons of mass destruction, including nuclear weapons." He has also freed political prisoners locked up under the previous administration. Among them was Nasrian Sotoudeh, an Iranian human rights lawyer whom US President Barack Obama specifically mentioned during a 2011 address to Iranians. 
Rouhani has asked to meet with French President Francois Hollande at the UN General Assembly next week. But how Western leaders will react to Iran's change of tone remains to be seen. US Secretary of State John Kerry said the rhetoric has been "very positive" but expressed reluctance to take Rouhani at his word.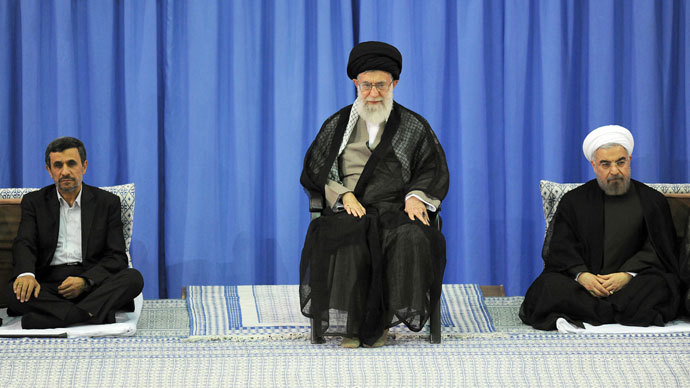 "Everything needs to be put to the test," Kerry said after Rouhani spoke with NBC. "We'll see where we go. And at the right moment, I think that the White House and the State Department will make clear where we are headed." 
White House spokesman Jay Carney said Thursday that Obama himself would be open to meeting with Rouhani, fulfilling a campaign promise from 2008. Obama promised at the time that he would hold direct negotiations with Iran if the country agreed to never build nuclear weapons. 
"It's possible, but it has always been possible," Carney said. "The extended hand has been there from the moment the president was sworn in." 
Political observers have wondered whether Obama and Rouhani might come face-to-face at the UN Assembly, speculating over the prospect of the long-time foes entering into a civil discussion. During his time as president, Ahmadinejad used the annual opportunity to deliver an inflammatory address, prompting representatives from the US and Israel to walk out in protest. 
Rouhani's speech is expected to be one of the main events in the coming discussions. If his rhetoric in recent weeks is any indication, this year's General Assembly could be a much warmer affair. 
"As I depart for New York for the opening of the UN General Assembly, I urged my counterparts to seize the opportunity presented by Iran's recent election," Rouhani wrote in the editorial. "I urge them to make the most of the mandate for prudent engagement that my people have given me and to respond genuinely to my government's efforts to engage in constructive dialogue." 
However, Israel has accused Iran of employing "deception and concealment" in an attempt to buy time for its nuclear program. Israel, which is believed to be the only Middle East power in possession of nuclear weapons, said that Iran has merely "modified its diplomatic vocabulary." 
"The picture that Iranian representatives are portraying regarding openness and transparency of their nuclear program stands in sharp contradiction with Iran's actual actions and the facts on the ground," said Saul Chorev, head of Israel's Atomic Energy Commission, at the annual meeting of UN International Atomic Energy Agency member states.
You can share this story on social media: