EU hypocrisy? Anti-Tehran channel launches in London amid ban on Iranian state TV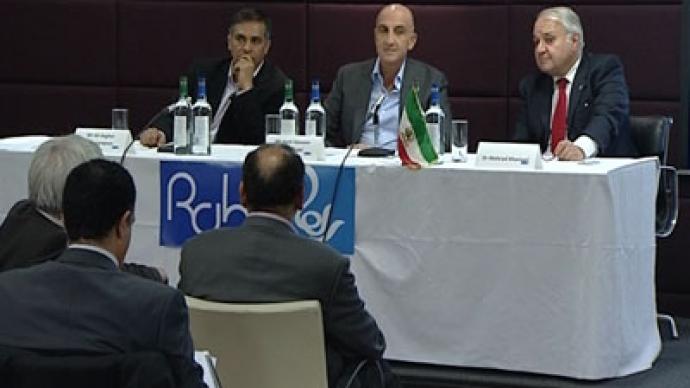 A new Iranian TV station has started broadcasting from London, aiming to be a platform for opposition to Iran's current leadership. The launch comes just over a week after 19 state-run Iranian TV and radio stations were banned in the EU.
­Raha TV is a brainchild of Amir Hossein Jahanchahi, a businessman who fled to Europe in 2003 and whose father was a finance minister during the pre-revolutionary government.

In Farsi, 'raha' means freedom – and that could give an indication of the political agenda behind the new station.

Jahanchahi denies having any financial support from international organizations. He told RT he wants to help the Iranian people to "decapitate the current regime," as his channel is "for the change of the dictatorship."

While starting up his channel, Jahanchahi said he was inspired by the examples of Al-Jazeera and Al Arabiya, which played significant roles during the Arab Spring uprisings.

Meanwhile, Iran will hold a presidential election next June.

At first, Raha will be on-air for only three and a half hours a day, with a 30-minute news show and three hours of culture block.

But in Iran the voice will not be heard – the Iranian government has blocked the channel's signal and Internet feed.

The launch of a new channel in Britain, where another Iranian TV channel, Press TV, was banned from the airwaves this January, brought calls of British hypocrisy.  

Author and journalist Afshin Rattansi says Britain is "glad to welcome a propaganda channel run by the one percentage, while no one in Iran – even those who oppose Ahmadinejad" will support the new opposition channel.

Press TV was later closed in the EU due to the latest and toughest-yet round of sanctions by the bloc, the US and their allies.

But the founder of Raha TV believes his channel will not face the same fate as Press TV.

"If tomorrow they don't want me to be here, I will go to Paris, or to Madrid. If they don't want I will go to Washington. If they don't want, I will go to Russia. It is not important where," Jahanchahi said.

Ironically, Raha TV is broadcast through European satellite provider Eutelsat, the agency that blacked out the 19 state-run Iranian TV and radio stations.

Investigative journalist Tony Gosling says viewers are being stripped of the chance to hear both sides of the story.  

"The ultimate thing here is it should be up to the viewers to decide, not for the people who own those satellites. We need that freedom of expression," he said. "So what we're seeing is a kind of a difference of opinion going on in different parts of the world, which is based on who is controlling the satellites in that area," Gosling said.