Iranian envoy holds nuclear talks in Moscow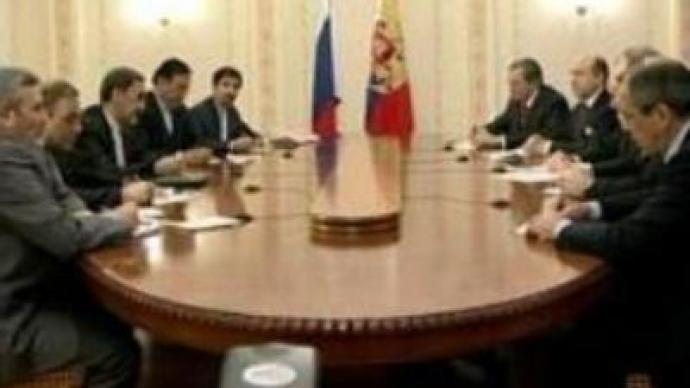 The Iranian presidential foreign policy adviser, Ali Akbar Velayati, has held the talks with the Russian leadership in Moscow. The talks came ahead of the publication of the IAEA report on Iran's nuclear programme.
The country may be only weeks away from new tougher UN sanctions if a new International Atomic Energy Agency (IAEA) report reveals it has failed to suspend its atomic enrichment programme.However, the Islamic republic is in defiant mood. Its armed forces took part in two days of war-games in the Persian gulf, and Iran's supreme spiritual leader Ayatollah Ali Khamenei threatened strikes against American interests worldwide, if the country is attacked.Diplomatic efforts to resolve the situation though are still ongoing with Ayatollah Ali Khamenei's envoy in Moscow to hear the latest Russian ideas to break the deadlock.In the second high-profile meeting between Russian and Iranian leaders this year, Russia's Foreign minister Sergey Lavrov urged Tehran to show good will in resolving the dispute, whereas President Putin preferred to focus on the good relations between Russia and the Islamic republic.
"The cooperation between our two countries has a long history; it is absolutely open and transparent, and we expect very much that upon the solution of complex problems, particularly in the sphere of nuclear problems we will continue to develop relations with the Iranian people and Iranian state,"
stressed the Russian President.Russia also expressed its support for a proposal made by the head of the UN nuclear watchdog for a "time out" on the imposition of full sanctions if Iran agrees to suspend uranium enrichment.Although Russia supported the resolution of the UN Security Council imposing limited sanctions on Iran in December 2006, it has continually pressed for a softer line on the Islamic republic than its Western counterparts.Moreover, Russia has strong financial interests in Iran and has a billion-dollar contract to help build a nuclear power station in the Iranian town of Busher.Meanwhile, the United States and its allies call for tough measures if Iran fails to abandon its enrichment programme which they fear could be used to build an atomic bomb.
You can share this story on social media: