Iran unveils 'Epic' new drone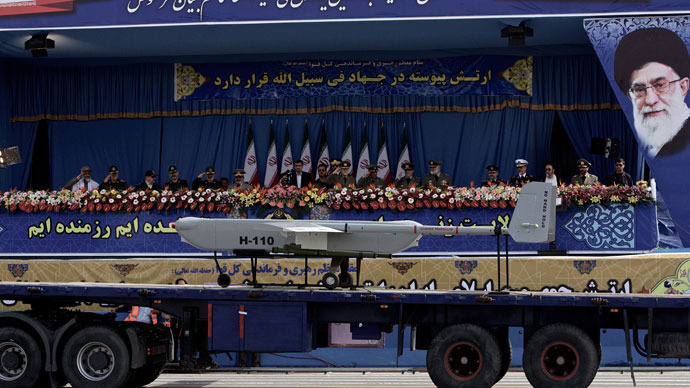 Much has been said already of the vast US military drone program, but Iran has just unveiled the latest of its own autonomous aircraft in a bid to highlight recent advances in the drive to build its own drone fleet.
Designated as the Hemaseh in Farsi, meaning 'epic' in English, Iran's latest reconnaissance-combat drone was unveiled on Thursday during a ceremony attended by Defense Minister Ahmad Vahidi.

Brightly painted in the colors of Iran's national flag and sporting what looked to be two dummy missiles under its wings, the domestically built drone is said to possess stealth capabilities that would allow it to evade enemy radar.

"This drone has been built by defense industry experts and is simultaneously capable of surveillance, reconnaissance and missile and rocket attacks," Vahidi said during the unveiling.

"This aircraft with its stealth quality can avoid detection by the enemy," he added.

In an earlier report produced by Iran's official Fars News Agency (FNA) the country claims to be building "tens of different types" of unmanned aerial vehicles, and touts this latest model as the country's most advanced. According to the FNA, 30 of a total of 40 types of drone models are already in the production phase.

On February 2, Iran also unveiled to much fanfare another domestically produced aircraft, that time a manned "stealth" jet named Qaher 313, at a ceremony presided over by President Mahmoud Ahmadinejad. Analysts within the US were generally suspicious of the unusual-looking aircraft, suspecting that it was a mock-up model rather than a flight-worthy prototype.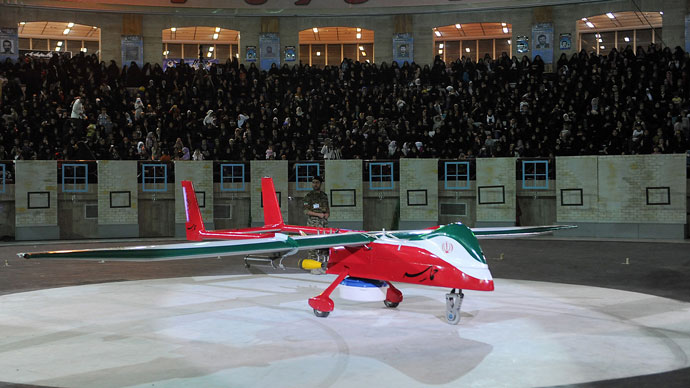 In recent years Iran has unveiled several drone models, such as the long-range Karrar in August 2010, and more recently the Shahed 129 model publicly disclosed in September 2012.
The Shahed 129 has been described as similar in appearance to Israel's own Hermes 450 UAV, and according to Iran is capable of carrying out combat and reconnaissance missions for up to 24 hours. Shahed also represented the country's second weapons-capable drone after Karrar.
To what extent Iran has developed its own technology and applied it to its domestic drone program is unclear. In December of 2011, the country was evidently able to bring down a US Lockheed Martin RQ-170 Sentinel drone 420 kilometers from its Afghanistan border, and subsequently declared it intended to reverse engineer the stealth aircraft. American officials speculated at the time that an internal technical issue could have brought down the craft.
In February, Iran released video footage allegedly decoded from the downed RQ-170, and images of the drone in Iranian possession seemed to indicate the craft had sustained only minimal damage.  
US analysts have expressed doubts that Iran could have reverse engineered key components, such as the drone's stealth coating, though they worried that the technology would be shared with other countries, such as China.
Iran announced the unveiling of four drone types during an April military parade, designated as Azem 2, Mohajer B, Hazem 3 and the allegedly radar-evading Sarir.
The country has consistently demonstrated a desire to develop a robust domestic drone program. Iran has repeatedly been named in Israeli reports of drones launched from Lebanon, the latest of which was intercepted by the Israeli air force in late April near the coastal city of Haifa.
You can share this story on social media: