UN, US ratchet up pressure over Iranian nuclear program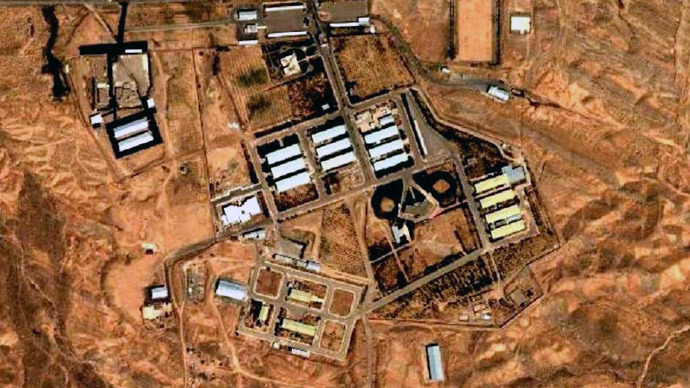 The UN nuclear watchdog head urged Iran to allow inspectors to access the Parachin military site, where nuclear weapons-related tests may have been conducted. The top US diplomat also warned time was running out for talks on Iran's nuclear program.
Director General of the International Atomic Energy Agency (IAEA) Yukiya Amano told the IAEA's governing board on Monday that he was "unable to report any progress" since early 2012 on Iran's disputed uranium enrichment program, Reuters reported.

He also called for immediate access to Parachin, a vast military complex just southeast of Tehran, without further negotiations. The IAEA suspects the Islamic Republic built an explosives chamber to conduct nuclear weapons tests at Parachin; Iran has denied the claim.  

The agency sent a delegation to Tehran last month to hold talks ob the possible resumption of site inspections, though Iran was not amenable to the request.  

"Providing access to the Parchin site would be a positive step which would help to demonstrate Iran's willingness to engage with the agency on the substance of our concerns," Reuters quoted Amano as saying.  

The IAEA has not had access to Parchin since 2005. Amano said the agency remained committed to negotiations, but insisted future talks should be carried out with "a sense of urgency and a focus on achieving concrete results."


'Window on Iran will not be unlimited'
During a press conference with his Saudi counterpart in Riydah on Monday, US Secretary of State John Kerry similarly warned "there is a finite amount of time" regarding negotiations over Iran's disputed nuclear program.

"It is absolutely not unlimited," Kerry said, speaking on the timetable for finding a solution. "Talks will not go on for the sake of talks and talks cannot become an instrument for delay that will make the situation more dangerous."

Kerry reminded Tehran that President Barack Obama had left all options on the table, including military action, to prevent Iran from obtaining a nuclear weapon. However, he stopped short of offering any concrete timetable for further US action.
Israel has long pushed the White House to use military force to halt Iran's suspected nuclear weapon program, demands which have mostly been rejected by the Obama administration.

Kerry's comments come less than a week after six world powers – the US, UK, France, Germany, Russia and China – and Iran gathered in Kazakhstan for inconclusive talks on Iran's uranium enrichment program.

Israel, which has regularly threatened to launch a pre-emptive strike against Iranian nuclear facilities if diplomacy yields no results, signaled its dissatisfaction with the results of the six-party talks.

"My impression from these talks is that the only thing that is gained from them is a buying of time, and through this time-buying Iran intends to continue enriching nuclear material for an atomic bomb and is indeed getting closer to this goal," Israeli Prime Minister Benjamin Netanyahu said on Sunday.

On Monday, Saudi Foreign Minister Prince Saud Faisal further claimed that Tehran did not appear sufficiently committed to the negotiations in Almaty.

"We can't be like philosophers who keep talking – we have to talk seriously and honestly and we have to put in our commitment clearly on the table."

The so-called P5+1 group offered a limited easing of sanctions against Iran if the Republic agreed to suspend 20-percent uranium enrichment and freeze work at its Fordo underground facility. The talks are scheduled to continue on a technical level in Istanbul, before resuming in Kazakhstan on April 5.

Iran has long maintained that its uranium enrichment program is solely for peaceful purposes, such as generating electricity.

On Sunday, Iran announced it was building 3,000 advanced centrifuges for enriching uranium. Fereydoon Abbasi, the head of Iran's Atomic Energy Organization, stressed the new generation of centrifuges were developed for the enrichment of uranium below 5 percent, and cannot be used for 20-percent enrichment.

The announcement drew condemnation from Western powers.
'Iran approaching red line'
On Monday, Israeli Prime Minister Benjamin Netanyahu told the American Israel Public Affairs Committee – the largest pro-Israel lobby in the US –that Iran was "running out the clock" on diplomatic efforts in order to "to buy time to press ahead with its nuclear program."

"Iran enriches more and more uranium, it installs faster and faster centrifuges…"We have to stop its nuclear enrichment program before it's too late," he warned in a speech via satellite from his office in Israel, AFP reports.

"It's still not crossed the red line I drew with the United Nations last September," Netanyahu said in reference to the point where Israel believes Iran would be able to build a nuclear weapon.

"But Iran is getting closer to that red line, and it is putting itself in a position to cross that line very quickly once it decides to do so."

Netanyahu reiterated previous warnings that ongoing efforts must be "coupled with a clear and credible military threat if diplomacy and sanctions fail."
You can share this story on social media: