Iran sanctions may be lifted – Russian Deputy FM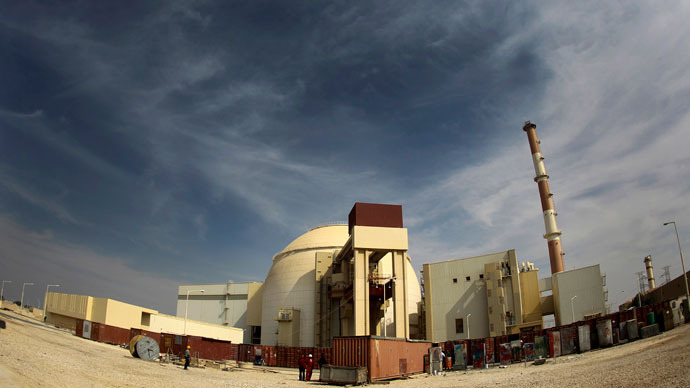 As diplomats arrive in the Kazakh capital for the start of P5+1 negotiations with Iran, Russian Deputy Foreign Minister Sergei Ryabkov said a breakthrough is possible if Tehran proves its nuclear program is peaceful.
Ryabkov is leading the Russian delegation in Almaty and said the success of the negotiations require "the political will" and the commitment necessary for the negotiations to "enter this stage."
The Russian diplomat expressed Moscow's growing frustration over the progress of the talks, which have produced few breakthroughs in a series of fits and starts.
"We are calling upon all participants to stop wasting any more time," the Deputy Foreign Minister told reporters as negotiators prepare for their latest attempt at resolving the Iranian nuclear standoff. 
"It is simply uncivilized when we make pauses of eight or 15 months," Ryabkov added.
Iran has been subject to international sanctions over Tehran's refusal to fully cooperate with officials from the International Atomic Energy Agency (IAEA). The UN nuclear watchdog wants full access to Iran's suspected nuclear sites in order to prove it is not conducting nuclear weapons research.
Tehran says its nuclear program is restricted to a civilian energy program.
The Russian diplomat also had some tough words for the Iranians.
"We count upon Iran to arrive in Almaty better prepared from the point of…finding a real common platform, not the repetition of what everyone already knows," he emphasized.
Ryabkov admitted the negotiations will require a lot of give and take on both sides of the table. 
"The hard part is how to agree on the balance of interests," he acknowledged. "It is obvious that no one wants to disclose one's internal affairs for nothing."
They need to get something in exchange, Ryabkov said.
Although the Russian diplomat predicted there would be "no breakthrough, no joint decisions or sensational results as far as the settlement as a whole is concerned," he said the negotiators may make enough progress to say that the Almaty round of talks was not "held in vain."
The negotiations in Almaty, scheduled for February 26-27, will include Iranian National Security Council Secretary Saeed Jalili, who attended the June meeting in Moscow, EU High Representative for Foreign Affairs and Security Policy Catherine Ashton, Chinese Assistant Foreign Minister Ma Zhaoxu, French Foreign Ministry Director-General for Political and Security Affairs Jacques Audibert, British Foreign Office Political Director Simon Gass and German Foreign Ministry Envoy Hans-Dieter Lucas.
The latest round of negotiations between P5+1 (five permanent members of the UN Security Council and Germany) was held in Moscow on June 18-19.
Robert Bridge, RT

You can share this story on social media: