Iran opens the door to snap inspections in Geneva talks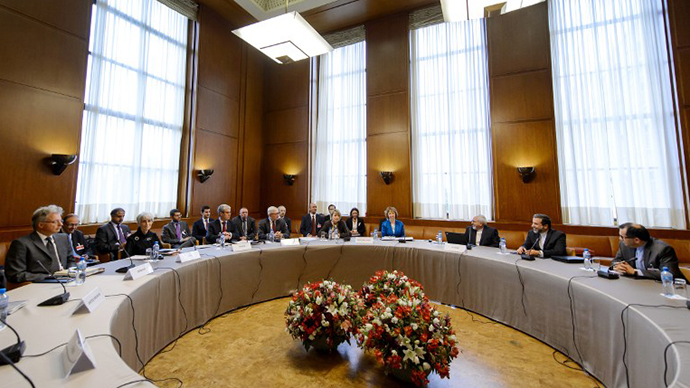 Iran's top diplomat has said the proposal handed to world powers in Geneva will allow for unannounced inspections of its nuclear facilities. Tehran has hailed the talks as "capable of making a breakthrough" in the decade-long political deadlock with Iran.
Abbas Araqchi, Tehran's top negotiator said that allowing snap inspections of Iran's nuclear site was one of the steps in a proposed plan to normalize international relations.

"None of these issues exist in the first step, but they are part of our last step," Abbas Araqchi was quoted as saying by the official news agency IRNA.

On Wednesday, the two-day talks between the six world powers - Britain, France, Germany, Russia, China and the US - and Iran over its disputed nuclear program rounded up with Tehran indicating a readiness to scale back uranium enrichment.
It has also been agreed that nuclear and sanctions experts will meet for talks before November 7-8, announced EU's High Representative, Catherine Ashton.
On Tuesday Iranian diplomats laid out their proposal to normalize relations with the West and allay fears that they are developing nuclear weapons.

The US also held a private meeting with Iranian government emissaries in the evening, which was described as "useful," though "expected."

Washington has sought to downplay the media hype over a possible end to the diplomatic deadlock in Iran that has gone on for over a decade. The Obama Administration has praised new President Hassan Rouhani for his willingness to restart negotiations, but has shied away from fully endorsing the talks.

"We certainly want to make clear that no one, despite the positive signs that we've seen, no one should expect a breakthrough overnight," White House spokesman Jay Carney said.

In Washington, a group of US senators used the end of the latest round of talks to call for increased pressure on Iran via legislation that would escalate sanctions.

The spokesman for the European Union's foreign policy chief echoed the American view, calling for Iran to release more details on its atomic program.

"We have had a certain amount of information from the Iranian side and we will hope to get more detail from them tomorrow," spokesman Michael Mann said after the first day of talks on Tuesday.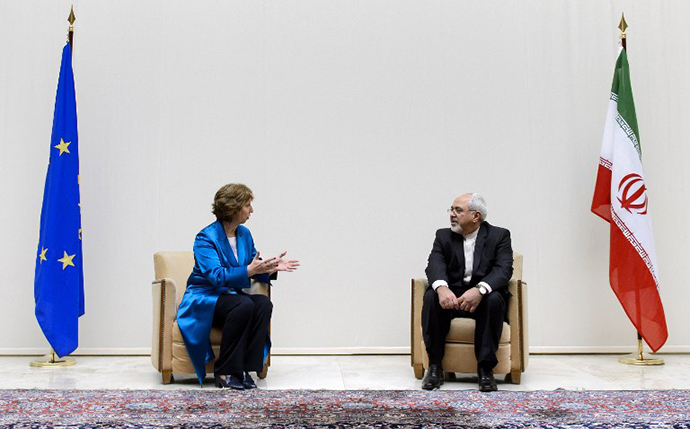 Russia has called for the removal of all economic sanctions on Iran, alleging that they "undermine" attempts to solve the diplomatic crisis. Under the proposal, the sanctions should be scrapped if Tehran agrees to have its nuclear program placed under international control, Russian Deputy Foreign Minister Sergey Ryabkov said on Wednesday.
Russian Foreign Minister Sergey Lavrov said there would be many opportunities for Europe and Russia to work together with Iran, but only when the sanctions are lifted on Tehran
"To begin with the unilateral sanctions need to be removed," stressed Lavrov in Geneva on Tuesday. Washington has said that for now the economic penalties imposed on Iran will remain in place.
The international community had previously proposed that Tehran send its stockpile of enriched uranium abroad as a gesture of its willingness to cooperate. The Iranian government refused to comply and said that relinquishing its uranium was a step too far.
"We will negotiate regarding the form, amount, and various levels of [uranium] enrichment, but the shipping of [enriched] materials out of the country is our red line," said Deputy Foreign Minister Abbas Araqchi on Iranian state television. In turn the Iranian side has said the West should take steps to loosen the sanctions on Tehran as a gesture of goodwill.
Iran's new president, Hassan Rouhani, was inaugurated in August and has since pledged to work towards normalization in diplomatic relations with the West. The international community has largely welcomed Tehran's more open stance, but Israel has branded Rouhani as a "wolf in sheep's clothing" and continues to pressure for a strike on Iran's nuclear facilities.