'Lots of work to do': Top US, EU officials in Geneva to push for Iran deal amid Israeli protest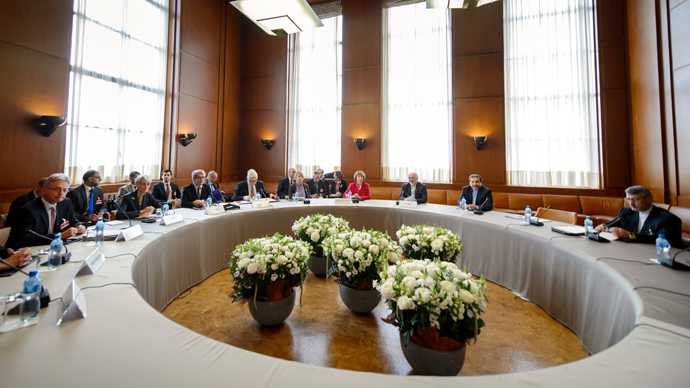 There is still "lots of work to do" as diplomatic heavyweights are "working hard" to broker a nuclear deal with Iran in an unprecedented effort as the P5 + 1 delegation meet in Geneva. However, Israel has resolved to reject any proposal under discussion.
Following the first day of talks, Katherine Ashton's office said that the meeting was "good" as it concluded for the night.

US Secretary of State John Kerry commented that the group was "working hard," while Iran's Deputy foreign Minister, Majid Takht-Ravanchi emphasized that the sides "have lots of work to do."

Leading diplomats from the six powers negotiating with Iran – the United States, Russia, China, France, Britain and Germany – rushed to Geneva for talks that could see a landmark deal with Tehran reached.

Russia's Foreign Minister Sergey Lavrov is also coming to Geneva to join the high-profile discussion when it resumes on Saturday.

In a statement, the State Department said Kerry, interrupting a 10-day visit to the MidEast, was aiming "to narrow the differences in negotiations."

"[We] hope to try to narrow the differences but no-one should mistake that there are important gaps to be closed," he said on arrival in Geneva.
In contrast to previous meetings, which were marked by the absence of some of the attending countries' main representatives, the P5+1 are sending in their top brass to work out an agreement.

Among the senior representatives present are UK Foreign Minister William Hague, German Foreign Minister Guido Westerwelle and France's Laurent Fabius.

France's top diplomat said they were going to address the issue of Tehran's alleged nuclear weapons program head-on.

"We want a deal that brings a solid first response to worries linked to Iran's nuclear [program]," Fabius said on arrival in Geneva, according to a foreign ministry statement. "There is progress, but nothing is concluded yet."

Russia hoping for 'result whole world awaits'
Sergey Lavrov will join the talks in Geneva on Saturday, diplomatic sources told RT.

"There are many problems going deep into the interests of a number of countries. This is the reason why [the meeting] is getting to the ministerial level," Deputy Foreign Minister Sergey Ryabkov, currently heading the Russia delegation in Geneva, told RIA Novosti.

The diplomat says the Russian side expects "to come to a sustained result that the whole world awaits" during Saturday's talks.

Ryabkov and Zarif held a bilateral meeting Friday on the sidelines of the Geneva talks. According to Ryabkov, it focused on finding ways of "overcoming difficulties hampering the negotiating process."
The West suspects that Iran is enriching uranium with a view to developing nuclear arms, something that Tehran has consistently denied. While the Iranian government has refused to stop enriching uranium, it has said that it will take steps to allay fears they are building atomic weapons.

As part of the concessions, Iran has proposed to stop enriching uranium to 20 percent and limit its use of centrifuges. Moreover, Tehran would pledge to only enrich uranium to 5 percent purity, which is just enough for a nuclear power plant but far from sufficient for constructing a bomb. Finally, Iran would agree not to activate its plutonium reactor at Arak for a period of six months.

Iranian Foreign Minister Mohammad Javad Zarif has hinted that a landmark agreement may be in the cards. On Thursday he told press that a deal could be reached "before we close these negotiations."

Tehran is pushing for the international community to lift financial penalties that have crippled Iran's economy. 

Meanwhile, Ali Akbar Salehi, the head of the Iranian Atomic Energy Organization, announced that the UN's International Atomic Energy Agency (IAEA) director general, Yukiya Amano, had accepted an invitation for talks in Iran.

The IAEA chief is scheduled to arrive to Tehran on Nov. 10, and the next day meet with "senior Iran representatives… with an objective to develop the dialogue and to strengthen cooperation," a communique issued by the nuclear watchdog said.
Iran hopes to open a "new page" in relations with the IAEA, Iranian Permanent Representative in the IAEA Reza Najafi has said.

According to Najafi, "Iran has made new proposals on practical steps as the contribution in the dialogue with the IAEA, discussed them in detail, and the IAEA estimated them as constructive."

Israeli PM warns of 'historic mistake'

In spite of the international push to resolve the stalemate that has frozen relations with Iran for a decade, Israel has voiced its fervent opposition to the negotiations. Just 72 hours ahead of the meeting in Geneva, Israeli Prime Minister Benjamin Netanyahu made an appeal to Kerry, branding the concessions Tehran has promised as false.

"They wanted relief from sanctions after years of a grueling sanctions regime. They got that. They are paying nothing because they are not reducing in any way their nuclear enrichment capability," Netanyahu said, branding the deal with Iran a "mistake of historic proportions."

The Israeli leader underlined that Israel "utterly rejects" any compromise that comes out of the talks and said that anything less than the full dismantlement of Iran's nuclear facilities would be unacceptable.

US President Obama phoned Netanyahu Friday to update the prime minister on the state of the talks.
"The President provided the Prime Minister with an update on negotiations in Geneva and underscored his strong commitment to preventing Iran from obtaining a nuclear weapon, which is the aim of the ongoing negotiations between the P5+1 and Iran," read a White House statement. "The President and Prime Minister agreed to continue to stay in touch on this issue."
You can share this story on social media: