No secret Moscow agenda with Syria, Iran for Geneva 2 conference - Lavrov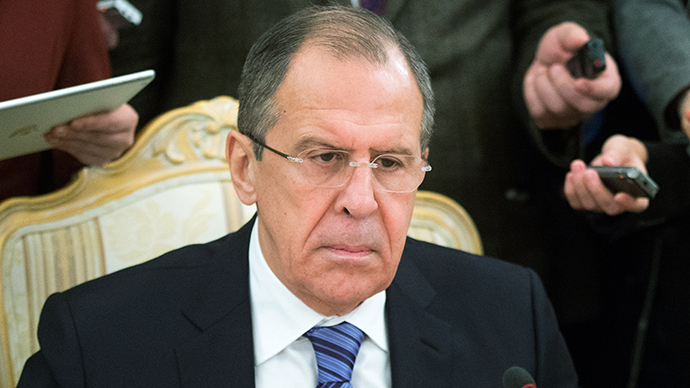 Russia is not hatching any secret project with Syria and Iran ahead of the peace conference in Switzerland next week, Russian Foreign Minister assured.
"We are talking today to Javad Zarif. Tomorrow we will talk to Walid Muallem. This does not imply any trilateral project. Our three countries don't have any unique position on the Syrian crisis," Lavrov said, speaking in Moscow with his Iranian counterpart Javad Zarif.
Lavrov assured that Russia's interest in sponsoring the so-called Geneva 2 conference, which is to start on January 22, is to stop violence in Syria, preserve its territorial integrity, protect its ethnic and religious minorities and reach greater stability for the entire Middle East.
"These are exactly what the UN Security Council statements say, including the Resolution 2118. It's exactly what the Geneva communiqué says," he stressed.
He also reiterated Russia's commitment towards seeing Iran as a negotiator at the conference.
Zarif said that if Iran is invited by the UN Secretary General, it will attend.
"If we are invited, we will participate. If we are not, we will not participate," he said.
Washington has been objecting to Tehran's participation, saying that it needs to commit to results of the first Geneva conference on the Syrian crisis. Iran insists that it will not accept any special conditions on its participation in the talks.
The US and Russia are the prime sponsors of the Geneva 2 conference. They have been trying to gather all parties with vested interests in the Syrian conflict for months, with the event being postponed several times.
Iranian participation remains one of the major 'ifs' on the issue. An ally of the Syrian government, Tehran is viewed as an unnecessary party at the negotiations table by Saudi Arabia, one of the sponsors of the Syrian armed opposition.
Another question still looming is the participation of the Turkey-based Syrian political opposition. The Syrian National Coalition remains split on whether to come to Switzerland. Several times it made U-turns, announcing that it will participate at one time and rejecting involvement at another.
You can share this story on social media: