Iran earthquake: LIVE UPDATES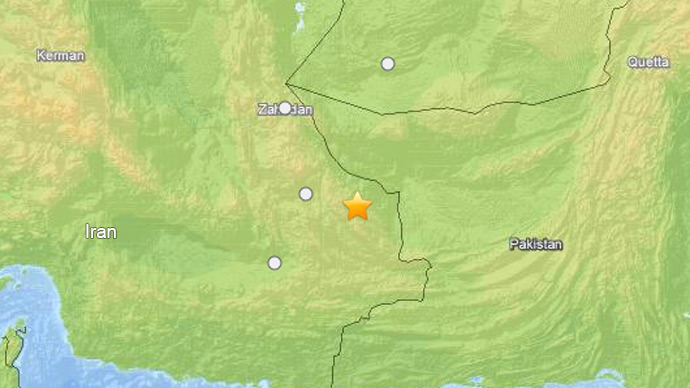 A powerful 7.8-magnitude quake has rocked Iran near the border with Pakistan just a week after another tremor hit the country.
18:41 GMT: Reuters reports that 35 people have been killed in Pakistan.

17:39 GMT: A military official says 80 people have been injured in Pakistan.

15:41 GMT: Pakistan's death toll has risen to 34, officials told AFP.

14:01 GMT: Pakistan has reported 21 deaths due to the earthquake, according to The First Post.

13:59 GMT: An Iranian provincial governor says there have been no deaths in Iran due to the earthquake, ISNA reported, as cited by Reuters.
"Fortunately, the earthquake resulted in no fatalities," Hatam Narouyi, the governor of Sistan and Baluchistan, told ISNA.

13:41 GMT:  Iranian state media has denied primary reports that 40 people had been killed, and now says that only five people have been injured, the general director of Fars news agency tweeted.
Iranian state media denied primary death reports (40 dead). Says only 5 injuried!

— Abas Aslani (@abasinfo) April 16, 2013
13:05 GMT: Twelve people were killed and many more injured in Pakistan's Panjgur and Mashkeel area of Balochistan. Fifty people sustained injuries from a roof collapse in Karachi, Radio Pakistan reported.
12:59 GMT: Despite previous reports, Dubai's Burj Khalifa - the world's tallest building - has not been evacuated, the tower's service desk told RT.

12:58 GMT: There have been no deaths reported in Iran thus far, a crisis center official told ISNA news agency. Five people were killed in southwestern Pakistan.
12:48 GMT: British Foreign Secretary William Hague has expressed "condolences to the families of all those who have lost their lives in the earthquake in Iran."

12:47 GMT: The number of deaths in a powerful earthquake that hit Iran on Tuesday was "not high," Iranian lawmaker Hamid Reza Pashang told Mehr news agency.
Iranian state television earlier said at least 40 people were killed, but acknowledged there was no official confirmation.
The Iranian Students News Agency quoted an official at the Emergency Medical Center at the Sistan and Baluchistan Medical University saying three people had been wounded.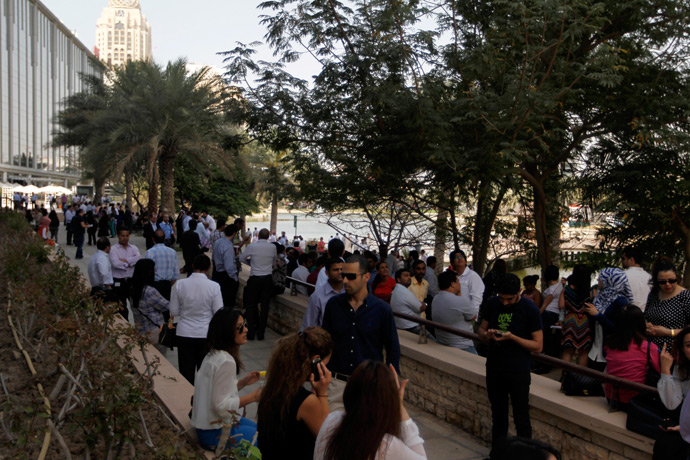 12:38 GMT: Around 20 homes in the rural area of Iran's Nimroz province were destroyed, BBC Persian reported. There were no immediate reports of deaths or casualties.
The Deputy Governor of Sistan and Baluchestan says the area has been heavily damaged by the earthquake.
12:37 GMT: The city of Kong, Iran was destroyed, BBC Persian reported. There has been no indication of the number of fatalities in thearea, which is located in Hormozgan Province.

12:30 GMT: Press TV reports that nine people have been killed in Pakistan, and more than 100 injured.

12:18 GMT: Five people have reportedly been killed in Kharan district, Pakistan, Reuters reported. The three women and two children were killed when their mud house collapsed in the district of Panjgur in the Pakistani province of Baluchistan, according to government officials.
In December 2003, a big earthquake struck the southern city of Bam. It killed 31,000 people - about a quarter of the population - and destroyed the city's ancient mud-built citadel.

12:14 GMT: Many buildings in Karachi have reportedly been evacuated, according to Al Jazeera.

12:09 GMT: New tremors have been felt across Doha, Qatar.
Employees have been evacuated from buildings throughout New Dehli, India.

Scene outside the Express building at ITO #delhi#earthquaketwitter.com/aayushsoni/sta…

— Aayush Soni (@aayushsoni) April 16, 2013
12:07 GMT: 850 people have been wounded in the earthquake.

Around 1,000 buildings collapsed in the Pakistani town of Mushkil near the border with Iran, Naharnet reported.

The last earthquake to strike Iran with a 7.8 magnitude happened in 1978 and killed approximately 15,000 people.
11:53 GMT: The Iranian city of Saravan - near the center of the earthquake - has not been seriously damaged, Fars news agency reported.

Power and communications systems are down in most of Sistan and Baluchistan provinces in southeastern Iran, according to state TV. 
11:48 GMT: Three helicopters and rescue crews have been sent to the area, Fars news agency reported.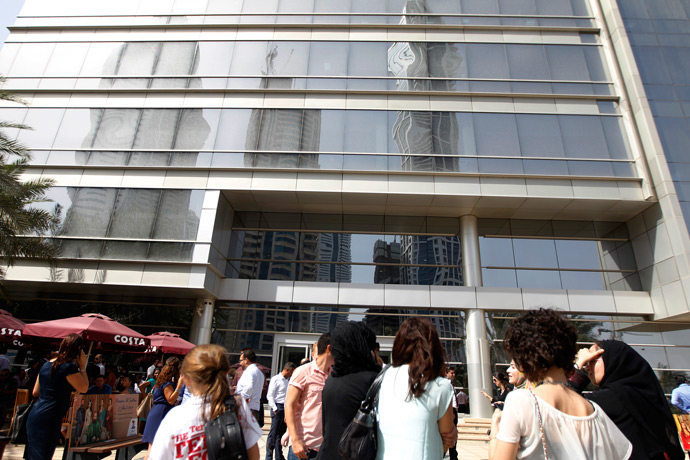 11:41 GMT: At least 40 people have been confirmed dead due to the quake, Iran's Press TV reported.

11:37 GMT: The Russian company which built Iran's Bushehr nuclear power plant says the earthquake did not cause any damage to the facility.
Thirty-seven people were killed after a 6.3 magnitude earthquake struck near Bushehr last week. Around 850 people were injured.

11:35 GMT: An Iranian official says hundreds of deaths are expected, Reuters reports. "It was the biggest earthquake in Iran in 40 years and we are expecting hundreds of dead," said the official, who spoke on condition of anonymity.
Biggest #quake in Iran in 40 years, hundreds of dead expected - Iranian govt official

— AlertNet (@AlertNet) April 16, 2013
11:25 GMT: A 7.8 magnitude earthquake was "a large event for any area" and could be expected to cause damage in inhabited places, USGS seismologist Carrieann Bedwell said, as quoted by CNN.

11:20 GMT: Indian television station NDTV said lights and equipment in its south Delhi studio shook for nearly a minute, Sky News reported.
11:05 GMT:
In New Delhi, the quake shook buildings for more than 10 seconds and prompted people to flee into the streets.
11:04 GMT: The quake was felt over a vast area from New Delhi to Gulf cities that have some of the world's tallest skyscrapers, including the record 828-meter (2,717 -foot) Burj Khalifa in Dubai. Officials ordered temporary evacuations from some high-rises as a precaution.

A resident in the quake zone, Manouchehr Karimi, told The Associated Press by phone that "the quake period was long" and occurred "when many people were at home to take a midday nap."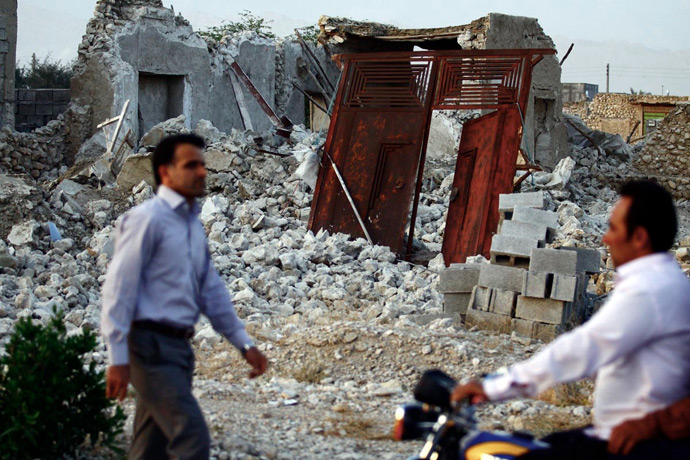 11:03 GMT: Strong tremors were felt across the Persian Gulf states and as far as New Dehli.
11:00 GMT: The quake's magnitude has been lowered to 7.8.

10:57 GMT: The US Geological Service reports a 8.0 earthquake some 90km southeast of the city of Khash, the Sistan-Baluchistan province, one of Iran's poorest. The quake was at a depth of 15.2 kilometers (nine miles). Khash is a populous city, which had a population of over 56,000 residents in 2006.

You can share this story on social media: