Iran launches mass production of new surface-to-air missiles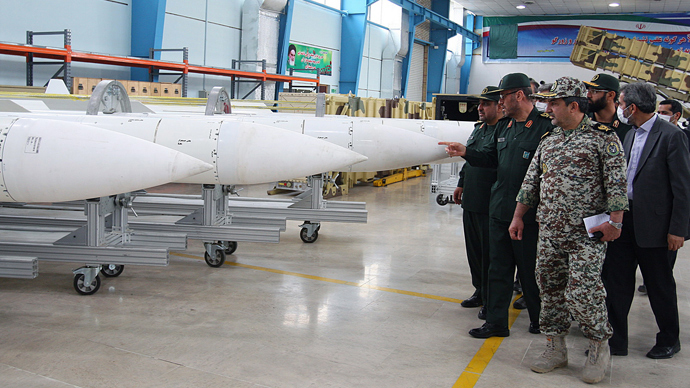 Iran has launched the production line of high-precision surface-to-air (SAM) missiles which would be able to destroy cruise missiles, bombers, drones and helicopters at medium range.
The production line of missiles dubbed the Sayyad-2 (Hunter-2) was inaugurated on Saturday by Iran's Defense Minister Hossein Dehqan, local media reported.

The home-made weaponry is designated "for confronting [possible] air raids," Dehqan said at the ceremony in Tehran.

The Sayyad-2 solid-fuel missiles have a combined guidance system and high operational capabilities to hit "different kinds of cruise missiles, bombers, drones, helicopters and targets with small radar cross-section and high speed and maneuverability within its operational range," Dehqan added.      

Sayyad-2 is an upgraded version of the Sayyad-1 which has been used against medium-altitude targets, but it has higher precision, range and defensive power. It is equipped with a 200-kilogram warhead and has a speed of 1,200 meters per second, local media reported. 
On Saturday the Iranian Defense Minister also announced the successful test-firing of the country's new air defense system Talash (Struggle) which was built to detect and intercept targets for the Sayyad-2 missile.
Talash is designated to protect the country's sensitive points against "surprise air threats of hi-tech combat fighters."

"Talash (Struggle) is a mid-range and high-altitude air defense system used to confront the flying targets, including fighter jets and bombers, and is also capable of destroying different helicopters and drones," Dehqan said adding that production was expected to be launched in the near future. 
In August, air defense base commander Brigadier General Farzad Esmayeeli told reporters that the domestic-designed Sayyad-2 missiles have been used in S-200 surface-to-air missile system. Tehran successfully test-fired the S-200 in November 2010, according to media reports.
The S-200 system is a long range, medium-to-high altitude surface-to-air missile system designed to defend large areas from bomber attacks. Each battalion has 6 single-rail missile launchers and fire control radar. It can be linked to other, longer-range radar systems.Each missile is launched by 4 solid-fuel strap-on rocket boosters, while the maximum range is between 200 and 350 kilometers.
Saturday's announcement comes as Tehran and five world powers, including the US, Russia, Britain, France and Germany, are holding talks in Geneva on Iran's nuclear program. The international community claims Iran is enriching uranium to create atomic weapons. However Tehran denies the claims stating that its nuclear program is being developed for civil purposes.

You can share this story on social media: